Bomb squad at Miami airport as 'suspicious activity' grounds American Airlines flight from Paris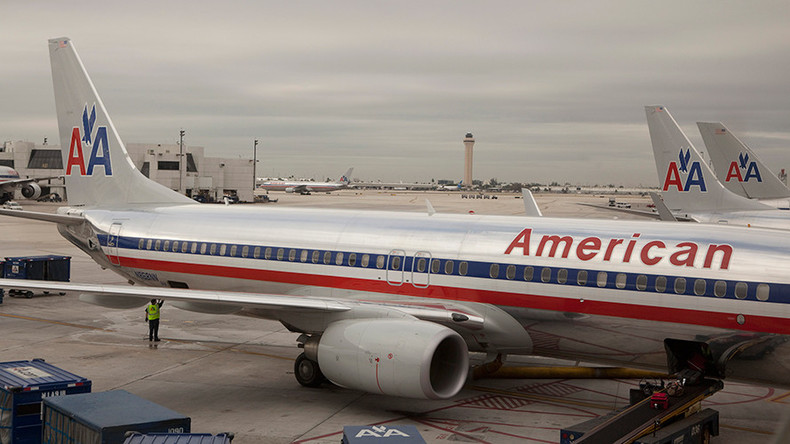 A bomb squad swept American Airlines flight 63 from Paris at Miami's International Airport after "suspicious activity" was detected and passengers were evacuated. The FBI said an unclaimed mobile phone caused the plane to be isolated and searched upon landing.
READ MORE: All Los Angeles schools closed over terror threat; prelim assessment is "hoax" - US rep
There were 217 passengers and 14 crew members on board the Boeing 777, which arrived safely in Miami at 3:32 pm local time, according to Alexis Aran Coello, corporate communications manager for American Airlines.

The plane was moved to a secure location and officers from Miami-Dade Police Department's bomb squad were investigating the incident. "Law enforcement is investigating what appears to be a suspicious item discovered onboard," Coello said.
The investigation has not disrupted any other activities at the airport, Airport Spokesman Greg Chin told the Miami Herald.
All passengers and crew were evacuated and remained on airport buses on the airfield, according to Chin.
All passengers on the plane were cleared at around 5:30 p.m. local time, according to Miami airport officials. K-9 officers had swept all the passengers and the aircraft, and apparently found nothing suspicious.
Meanwhile, Miami Herald reported that the hours-long police search was actually sparked by an unclaimed cell phone that was found by an American Airlines crew.

"Upon further investigation, a passenger did finally come forward and claim the cell phone," Miami FBI spokesman Michael Leverock was quoted as saying.