Millennials think American dream is dead, want others to fight ISIS ‒ survey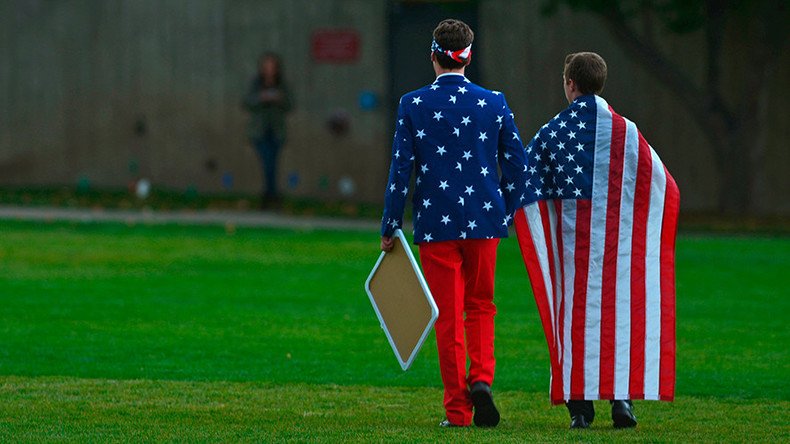 Millennials are disillusioned about the American dream, don't trust the government and don't think much of the current presidential candidates. They also want more boots on the ground to fight Islamic State… but they want other Americans to serve.
Americans ages 18 to 29 ‒ nicknamed the millennial generation ‒ account for 23 percent of the US population, or 73 million people. As such, the Harvard Institute of Politics (IOP) has undertaken the task of polling millennials twice a year on a vast swath of topics, from the political to the military, from the economic to the social. The institute, which is part of the university's John F. Kennedy School of Government, published its latest report on Wednesday.
"For 15 years, the IOP has polled Millennials, the largest generation in US history," IOP Director Maggie Williams said in a statement. "Our fall poll shows they are deeply divided about who should lead America, focused on candidate integrity and split over whether the American Dream is alive or not. We are hopeful that political leaders will inspire and include this generation in conversations about the future of their country."
The American dream is dead, long live the American dream
James Truslow Adams, in his 1931 book The Epic of America, defined the American dream as "that dream of a land in which life should be better and richer and fuller for everyone, with opportunity for each according to ability or achievement." For decades that meant that each generation would be better off than the last.
But millennials may become the first generation to be worse off than their parents ‒ and they know it. Of the 2,011 surveyed by IOP between October 30 and November 9, 48 percent of respondents said the American dream is dead, while 49 percent said it's still alive.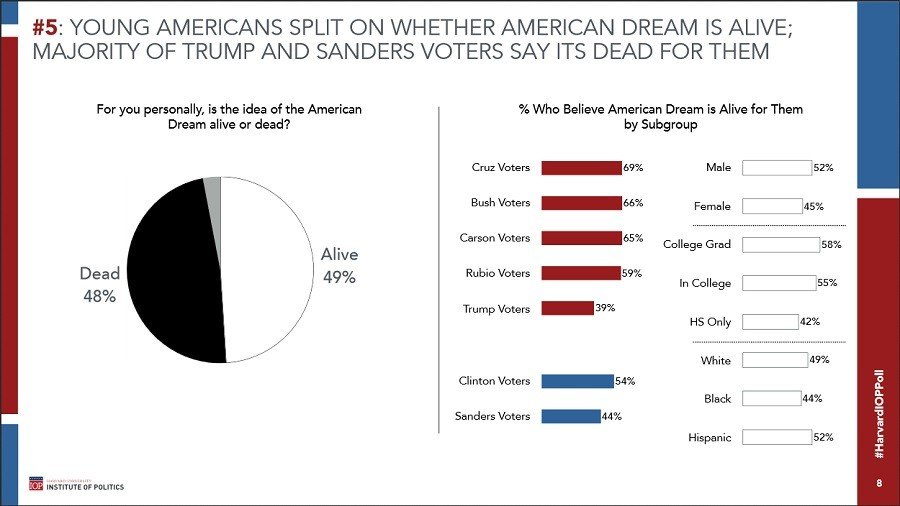 Those disaffected members of the generation are more likely to turn to political candidates who are considered outsiders in their respective parties: Only 39 percent of Republican presidential hopeful Donald Trump supporters and 44 percent of Democratic candidate Bernie Sanders supporters said the American dream was still alive, while more than half of all other candidates' supporters believed that to be true.
Millennials may be becoming more optimistic however, when it comes to the direction in which the country is headed. In 2011, 12 percent said the country was headed in the right direction; now 17 percent do. Just over four in 10 ‒ 44 percent ‒ of respondents in 2015 believe the country is headed in the wrong direction, down from 52 percent four years ago.
Between you, me and the NSA
Millennials don't trust the government, an institution they mostly believe impacts their daily life. The IOP survey questions focused on the government's collection of digital information, and nearly two-thirds of respondents ‒ 63 percent ‒ say they are concerned about the feds snooping in their online and phone communications. Young Americans are even more concerned about technology companies' access to their data, with 65 percent expressing their distrust in the industry. The survey question comes as the FBI and NSA push Silicon Valley and cell phone companies to add backdoor access to their encryption software for law enforcement and national security purposes.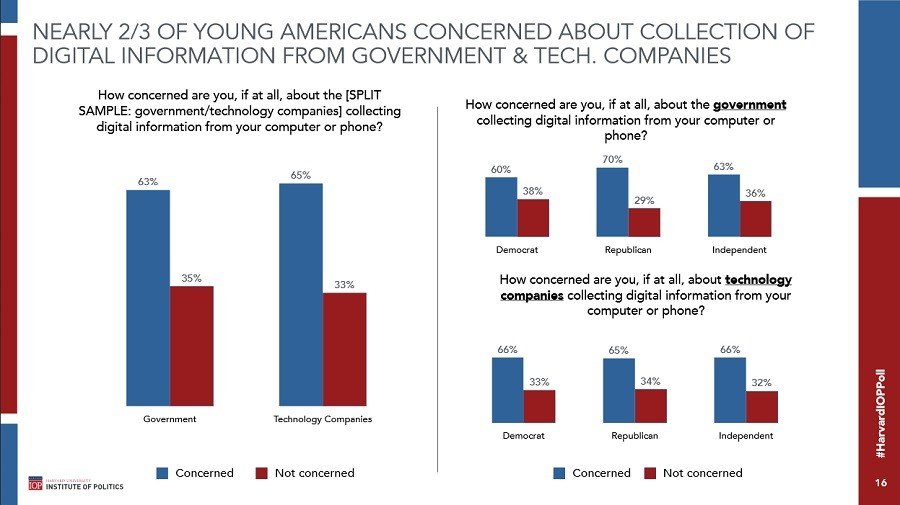 There is an international trend for millennials to be skeptical of governments, with only 11 percent of those ages 20 to 30 saying that federal governments around the world are likely to be honest and fair, according to the Global Shapers Annual Survey 2015, released in late October at the World Economic Forum conference in Abu Dhabi. Government was also the top sector that millennials believe requires the most change to adapt to their generation of citizens, that survey found.
Over half ‒ 57 percent ‒ of IOP respondents said that agree that the US government impacts their everyday life, with 24 percent agreeing strongly and 33 percent doing so somewhat.
It ain't me, it ain't me, I ain't no military son
For the third time this year, the Harvard survey asked millennials about the idea of American boots on the ground to battle Islamic State (IS, formerly ISIS/ISIL). Although the survey was completed before the November 13 terrorist attacks in Paris, France ‒ for which IS has claimed credit ‒ IOP polling re-fielded the question in the aftermath, finding a "hardening of support" for the increased involvement of US troops in the battle.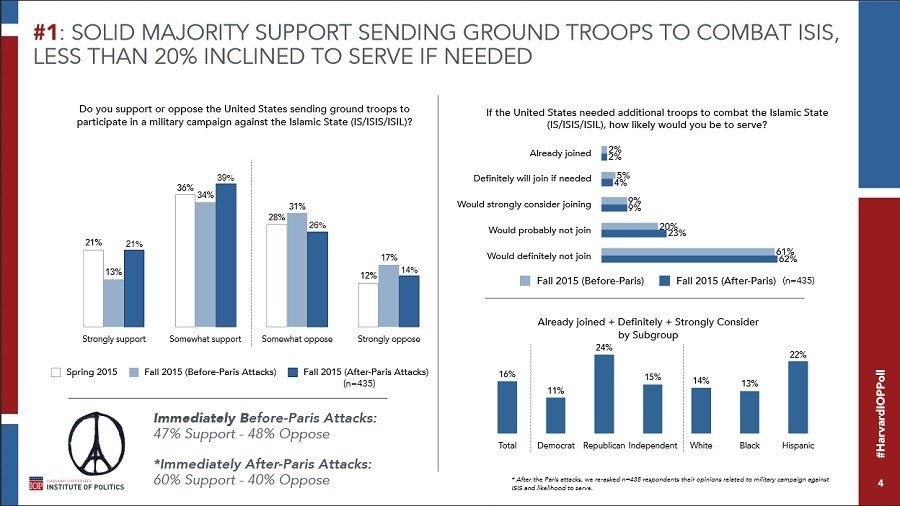 Immediately before the coordinated Paris attacks, millennials were split over whether to send ground troops to combat IS, with 48 percent saying they supported the action and an equal amount opposing. That was a nine percentage-point drop in support over the previous eight months: March 2015 saw 57 percent of respondents supporting combat troops and 40 percent opposed. After Paris, however, there was a 12-point swing in responses, with 60 percent of millennials now supporting boots on the ground.
Young Americans don't want to be the ones fighting the terrorist organization, though. When asked about joining the military to combat IS if additional troops were needed, only 16 percent said they "have already," "would definitely" or "would strongly consider" enlisting. Millennials who said they "definitely will join" dropped from 5 percent before the attacks to 4 percent after.
The disconnect in joining the fight ties back to how millennials feel about the government in general, said John Della Volpe, IOP's polling director, according to NPR.
"I'm reminded of the significant degree of distrust that this generation has about all things related to government," he said. "And I believe if young people had a better relationship with government... they'd be more open to serving."
All I want for Christmas is new presidential candidates
With the caucuses and primaries beginning in February, much of the poll focused on the cast of candidates gunning for the presidency in 2016. Yet political engagement isn't a priority for America's young adults, with only 20 percent of those surveyed saying they considered themselves "politically engaged and active," a drop from the 25 percent who described themselves as such during the same pre-election time period in the fall of 2011. When this fall's IOP poll asked millennials how closely they are following the 2016 presidential race, only 46 percent said they were following the campaign "very" or "somewhat" closely. More than half ‒ 52 percent ‒ opted for "not very" or "not at all."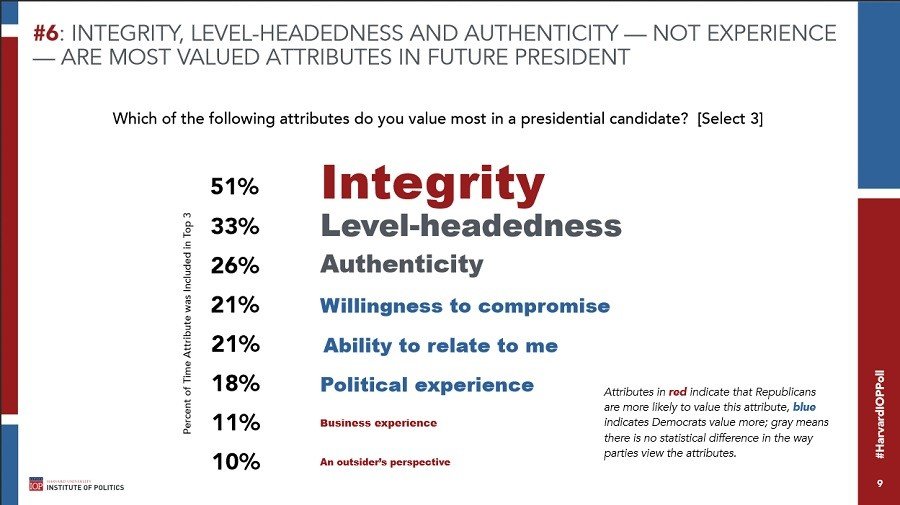 Given those preferences in a presidential candidate listed above, it may be surprising that the hot-headed Trump is leading among millennials who are potential Republican primary voters, with 22 percent telling IOP they would vote for the business magnate. However, the poll found Trump in a statistical tie with fellow political outsider Ben Carson, with 20 percent supporting the former neurosurgeon. The two retain a strong lead over the rest of the Republican candidate field.
Yet GOP respondents aren't thrilled with their choices: Only 17 percent said they were "very satisfied" with their party's candidates this year, while 47 percent were "somewhat satisfied," 25 percent were "not very satisfied" and 11 percent were "not at all satisfied." Only 28 percent described themselves as very enthusiastic about person they'd vote for in primary. Potential Republican primary voters also wavered on how qualified their top two candidates are for the presidency, with 38 percent deeming Trump competent to be commander-in-chief and 43 percent calling Carson qualified to lead the country.
On the Democratic side, millennials are splitting with their older brethren when it comes to their candidate choices. While former Secretary of State Hillary Clinton maintains double-digit leads over Sanders, an independent senator from Vermont, in national polls of likely Democratic primary voters, the IOP survey showed that 41 percent of those aged 18 to 29 support Sanders compared to 35 percent who plan to vote for Clinton.
That's a big change from IOP's April poll, which found that Hillary Clinton was the clear favorite in a Democratic primary, receiving the support of 47 percent of potential voters. Dems are more excited about their choices than the GOP, with 42 percent saying they are very enthusiastic about person they'd vote for in primary.
Sanders, a self-described democratic socialist, isn't hurt by the term, which was once considered the kiss of death in American politics ‒ at least among Democratic millennials. Two-thirds of potential Democratic primary voters said that the candidate's socialism made "no difference" in their likelihood to support his campaign, while only 9 percent said it made them "less likely."
The findings weren't much of a surprise for Della Volpe.
"Young people look more like the rest of Americans which means that in the last four or five years we've seen them become more polarized," he said, according to CBS News. "Democrats are moving further to the left, Republicans are moving further to the right."
You can share this story on social media: