Half of millennials say governments, media are least honest, fair - global survey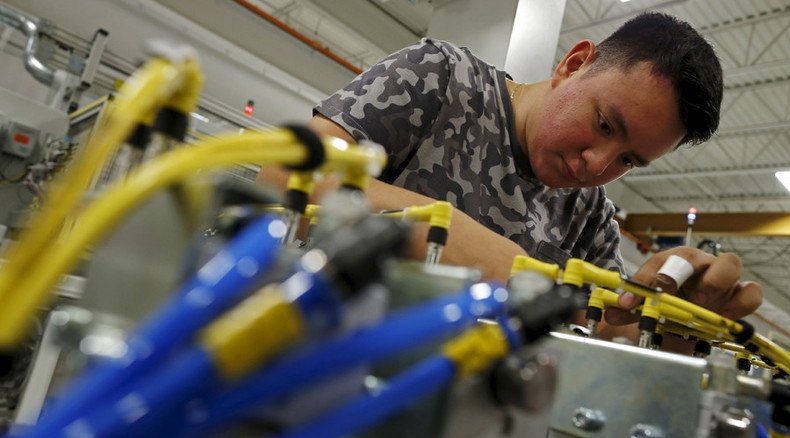 Social and economic inequality are the most pressing issues in the world, while federal governments and media are the least honest institutions, according to a survey of more than 1,000 millennials from 125 nations.
The Global Shapers Annual Survey 2015, released Sunday at the World Economic Forum conference in Abu Dhabi, included respondents ages 20 to 30, with an average age of 28. More than 60 percent of those surveyed were male. Latin America was the most represented of the nine regions included in the survey.

Nearly two-thirds ‒ 65 percent ‒ of respondents said an opportunity to make a difference in society was the top attribute they looked for when considering employment. Opportunities to learn and career advancement followed, with 51 and 40 percent, respectively.
"The Global Shapers Annual Survey 2015 reveals that millennials care about society in their reflections and also in their own career and economic choices. In addition to the diversity that we observe, the survey reminds us of those things that millennials value everywhere," said Yemi Babington-Ashaye, head of the World Economic Forum's Global Shapers Community.
Surveyed millennials said social and economic equality were the most important issues affecting their cities and the world today. Locally, youth employment and lack of government transparency were the next most urgent concerns. Globally, climate change and environmental preservation, as well as access to education, were top-ranked issues of importance.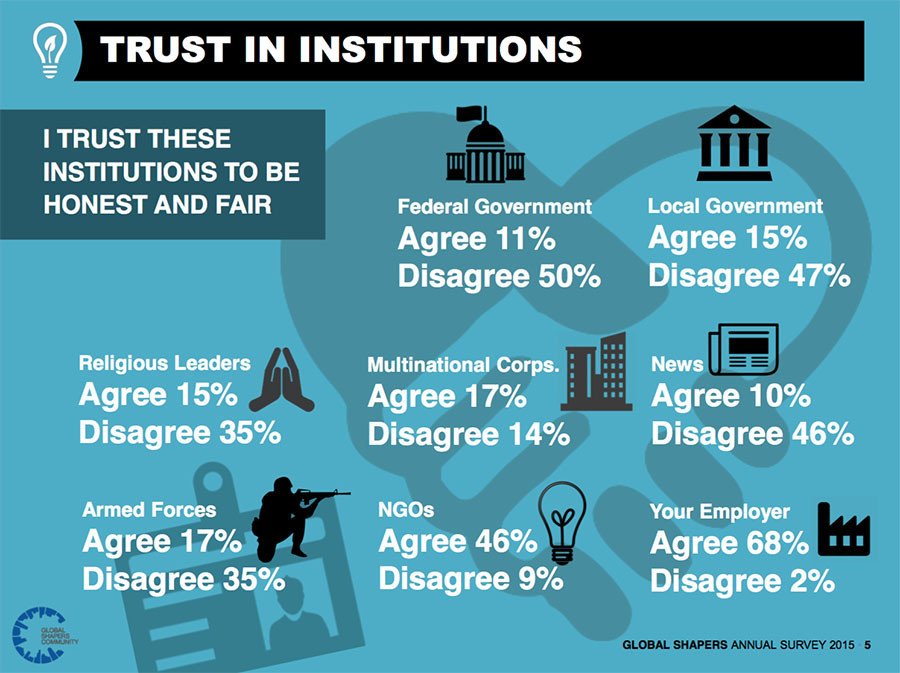 READ MORE: Millennials overtake baby boomers; minority babies outnumber white – Census

Federal (50 percent) and local governments (47 percent) ‒ followed by media, religious leaders, and armed forces ‒ were the institutions considered least likely to be honest and fair.

Government, followed by education and agriculture, were the top sectors millennials believe require the most change to adapt to their generation of citizens. Information technology was the most popular sector for local growth, followed by tourism and government.
READ MORE: Hawking: Greedy capitalists may pocket wealth as robots replace human workers
The majority of respondents also told the World Economic Forum ‒ a nonprofit foundation funded and supported by many of the most powerful transnational corporations, like weapons maker Lockheed Martin and the Coca-Cola Company ‒ that they are more likely to buy locally manufactured goods because "it is better for the local economy and for job creation."

When it came to participating in national elections, 85 percent said they voted, with about 70 percent voting in regional and and 71 percent in city elections.

The vast majority ‒ 91 percent ‒ of respondents said they would relocate to advance their careers. The United States, United Kingdom and Germany were the top three destinations for such a move, with the United Arab Emirates, China and Brazil considered the top three emerging markets.
READ MORE: SpaceX faces class action lawsuit claiming violations of labor laws

Nelson Mandela was the most revered leader for respondents, followed by Pope Francis, billionaire SpaceX head Elon Musk, Mahatma Gandhi, Microsoft founder Bill Gates and US President Barack Obama.
Nearly half said a laptop or PC is their preferred way to navigate the internet, followed closely by smartphone, with tablets a distant third.
You can share this story on social media: