Most Americans have less than $1,000 in savings, 1 in 5 have none – survey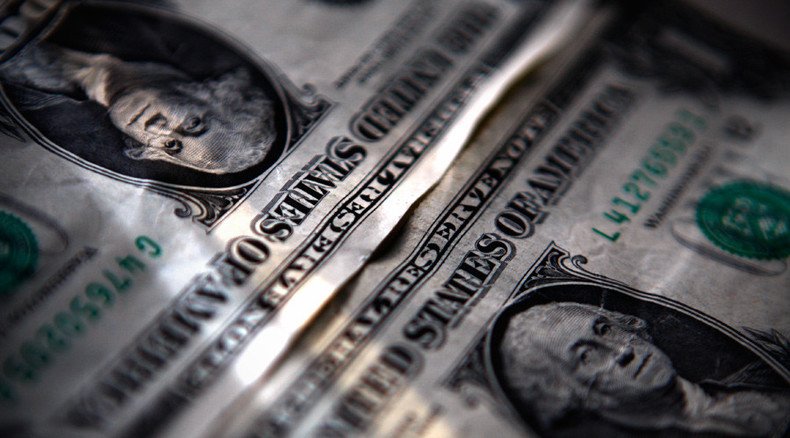 Two out of three Americans have $1,000 or less in their savings account, if they have one at all, a new survey shows. While young people tend to be broke, older Americans and those in higher income brackets are more likely to have substantial savings.
The sobering numbers come from the Google Consumer Survey commissioned by GoBankingRates, conducted in September from a representative sample of 5,006 respondents.
"It's worrisome that such a large percentage of Americans have so little set aside in a savings account," says Cameron Huddleston, a personal finance columnist for GoBankingRates. "They likely don't have cash reserves to cover an emergency and will have to rely on credit, friends and family, or even their retirement accounts to cover unexpected expenses."
Generation X – those aged between 35 and 54 – was most likely to have no savings, at 31 percent, while 29 percent of Millennials (18-34) and 28 percent of Baby Boomers (55-64) said they had no savings account, or that it had run dry.
On the other hand, 16 percent of Generation X, 17 percent of Boomers and 20 percent of seniors 65 and up reported having more than $10,000 squirreled away. There is also a correlation between earnings and savings, as wealthier Americans keep more money in savings accounts. The survey found people earning $75,000 and above more likely to have over $1,000 in their savings, while those in the $100,000-plus bracket reported savings of at least $10,000 more often than other brackets.
The number of Americans with meager or nonexistent savings – 62 percent – appears to have stayed the same since the February survey by Bankrate.com. According to that poll, a quarter of Americans were "teetering on the edge of financial disaster," with their credit card debt equal or greater than their emergency savings.
A SunTrust Bank survey in March found that nearly one-third of the households earning $75,000 a year or more live paycheck-to-paycheck, as the cost of living rose while wages remained stagnant.
The low savings rate can be partly explained by the fact that 57 percent of those who had savings prior to 2008 had to use some or all of it to weather the Great Recession, according to a 2014 Federal Reserve survey. Another reason, however, is that putting money in a savings account right now is a net loss.
With an interest rate of 1 percent or so on savings, money market accounts and certificates of deposit (CD), yields on savings have been "basically non-existent" since 2010, financial blogger Ben Carlson wrote in July. While the nominal return on 90-day Treasury bills has been around 0.3 percent, Carlson pointed out that the savers actually lost 1.6 percent after adjusting for inflation.
You can share this story on social media: