​'Cynical generation': Harvard poll shows Millennials lack faith in Congress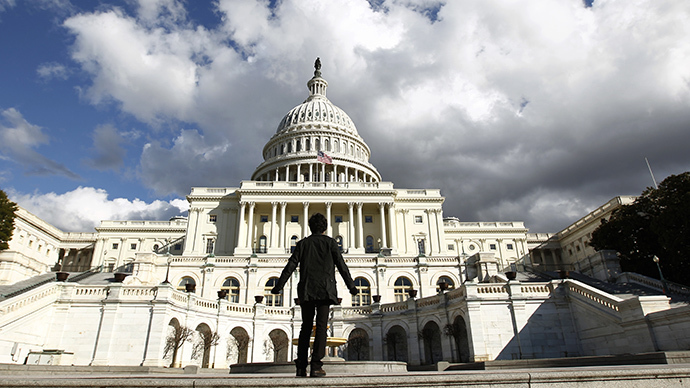 Young Americans have little faith in the US government, with a whopping 83 percent saying they have no faith in Congress. They also distrust the nation's media establishment, according to a new Harvard poll.
The survey, conducted by Harvard's Institute of Politics (IOP), interviewed 18 to 29-year-olds across the country. With questions ranging from political preferences to police body cameras, the survey revealed Millennials' views on the major issues.
"We believe it's important to listen to our young people," said Maggie Williams, director of the institute, during a conference call with the media. "Many are leading now and our choices will depend on their leadership."
The Millennial generation is indeed an extremely powerful one, accounting for 23 percent (73 million) of the US population.
Congressional confidence (or lack thereof)
The Democrats and Republicans were able to agree on one thing – their lack of faith in the US Congress. An overwhelming 83 percent of respondents said they had no trust in those working on Capitol Hill.
And according to Volpe, Millennials won't be buddies with those lawmakers anytime soon.
"Millennials are on a completely different page than most politicians in Washington, DC," Volpe said. "This is a more cynical generation when it comes to political institutions."
But for what it's worth, Millennials are starting to put more trust in the president, military, and the United Nations. Trust has grown slightly for the federal government (25 percent) and Wall Street (14 percent), though the numbers remain low.
President Obama's rating in particular is up seven percentage points over the past six months, resulting in an approval of 50 percent among young Americans. He has seen a rise in popularity from all major subgroups, particularly young Hispanics.
Clinton as Democratic favorite
The generation has significant voting power, as the group already accounts for more than a quarter of the voting-age population and has already surpassed the number of seniors eligible to vote. For this reason, their views on politics are seen as extremely relevant.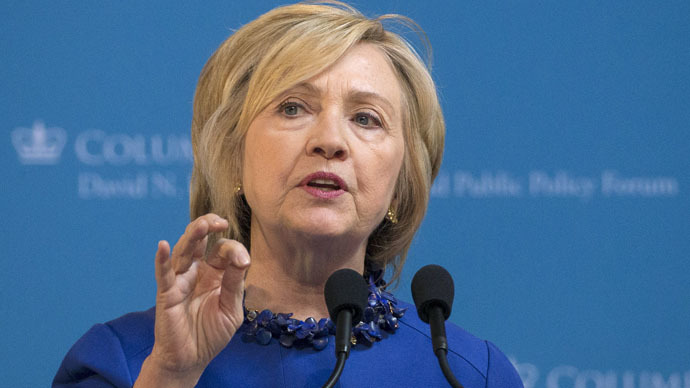 The poll found that Hillary Clinton is the clear favorite in a Democratic primary, and would receive the support of 47 percent of potential voters. Massachusetts Senator Elizabeth Warren would get 11 percent support, despite the fact she has no plans to run for president. Vice President Joe Biden, who has not declared candidacy, came in third with eight percent support.
However, the Republicans seemed less convinced of any particular candidate, with 36 percent of prospective primary voters expressing no favorite.
"There are plenty of opportunities for Republicans to make inroads with this generation," said John Della Volpe, the IOP polling director, as quoted by CBS News.
Fifty-five percent of those questioned said they would prefer a Democratic president after Obama's second term ends. However, the majority of young white voters (53 percent) said they would prefer a Republican president.
Race relations, police body cameras
Race and police brutality have taken the spotlight in America, with nationwide protests against police brutality prevalent in recent months.
Riots continue to blanket Baltimore following the death of 25-year-old black man Freddie Gray, who died in police custody. Similar unrest has recently been seen following the deaths of unarmed black men Michael Brown and Eric Garner at the hands of law enforcers.
According to the poll, there is an even split – 49 percent to 49 percent – of opinion regarding the nationwide protests against the treatment of African-Americans by law enforcement.
That support was connected to race. Eighty-one percent of African-Americans support the protests, along with 59 percent of Hispanics and just 39 percent of whites.
Similarly, African-Americans and whites differed significantly when asked about the US judicial system's ability to "fairly judge people without bias for race and ethnicity." Of the 49 percent who said they had "not much" or "no confidence" in the system, 50 percent of those were black and 31 percent white.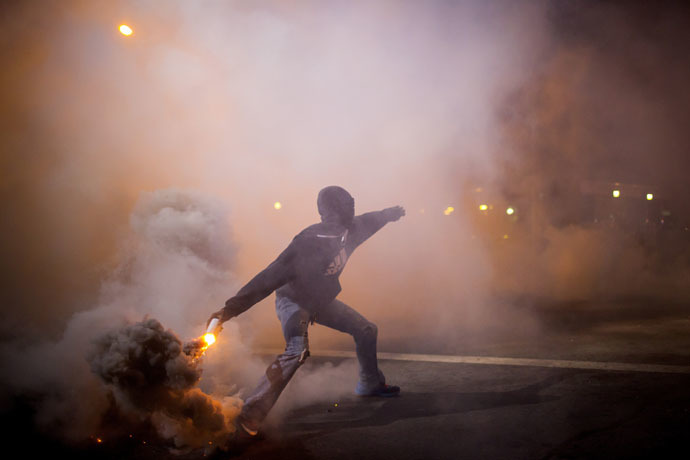 The issue of police body cameras has been a hot topic following the deaths of Brown, Garner, and Gray, with many insisting that the actions of police should be documented.
Eighty percent of respondents said they would support mandatory body cameras for officers on patrol, in an effort to reduce racial inequality in the justice system.
No trust in media
When asked about their confidence in the media, only 12 percent of respondents said they trusted those working in the industry to "do the right thing" all or most of the time. Though this number is extremely low, it represents a one percent rise from last year.
The media's approval rating came in dead last in a list of other institutions and professions. Scientists came in first, exhibiting the most trust among Millennials, followed by the US military, local police, the Supreme Court, the United Nations, President Obama, local government, state government, federal government, Congress, and Wall Street.
The IOP poll surveyed 3,034 young Americans between the ages of 18 and 29, from March 18 to April 1. It was conducted using KnowledgePanel, which is designed to be representative of the US population. Participants are scientifically chosen by a random selection of addresses and phone numbers. Those in the household are then invited to participate in the online poll.
You can share this story on social media: