FBI investigates San Bernardino shooting as 'act of terrorism'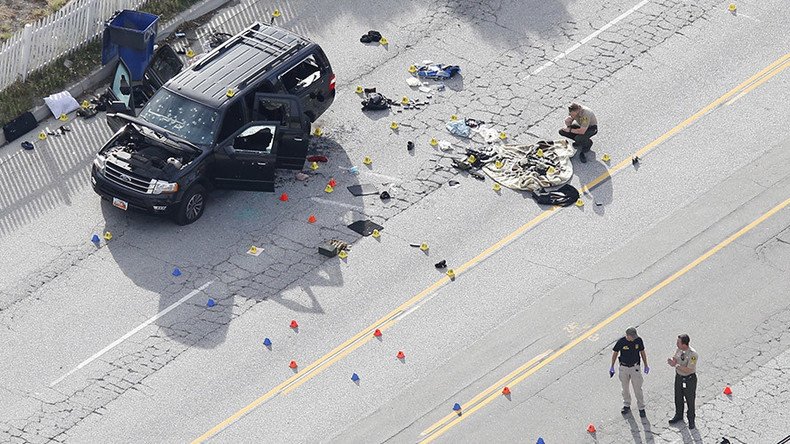 The San Bernardino, California shooting that left 14 dead and 21 injured is being investigated as terrorism, the Federal Bureau of Investigation has confirmed. There is no evidence so far the suspects belonged to a terror cell, though.
"As of today, based on the information and the facts as we know them, we are investigating these horrific acts as an act of terrorism," David Bowdich, assistant director in charge of the FBI field office in Los Angeles, told reporters Friday.
The investigation has developed "indications of radicalization" and "potential inspiration by foreign terrorist groups," said FBI Director James Comey, adding that there is "no indication so far" that the suspects belonged to a network, group, or a terrorist cell.
"There is a lot of evidence in this case that doesn't quite make sense," so the FBI is trying to be "very thoughtful to understand it and to make sense of it," Comey said.
Identified as Syed Rizwan Farook and his wife Tashfeen Malik, the two attackers who opened fire at the Inland Regional Center on Wednesday morning were killed in a shoot-out with police about four hours later.
"There is a number of pieces of evidence that has essentially pushed us off the cliff to say that we are now saying we are investigating this as an act of terrorism," Bowdich said at the press conference in San Bernardino.
While the suspects scrubbed their social media accounts and destroyed their cell phones, computers and other electronics prior to the attack, the Bureau is hoping to piece together enough digital information to lead them to the motive.
"We found two cell phones in a nearby trash can. Those cell phones were actually crushed," Bowdich said, adding that the FBI is working to retrieve the data from the devices. "We do hope that the digital fingerprints that were left by these two individuals will take us towards their motivation. That evidence is incredibly important."
Any data recovered from the couple's phones and computers would be the "potential golden nugget," Bowdich said.
The FBI is still looking for exact motivation of the attackers and for any accomplices that may or may not be in the US. Bowdich refused to speculate whether Farook and Malik were planning to attack a second location, but acknowledged "it's certainly a possibility" the Bureau is looking at.

Farook was not under active surveillance or investigation, by the Bureau, Bowdich confirmed.
"We know they were in telephonic conversations with people here in the US," he said "I am not aware of all the overseas connections yet. We're working with our foreign partners on that."
After providing a phone number for the public to leave tips about the case, Bowdich asked for time to collect and analyze all the evidence and data.
"Remember, folks, we're in day three, and we're barely two full days into this," he told reporters.
Concerning the Facebook post in which Malik reportedly made a pledge of allegiance to Islamic State, Bowdich said the FBI was "continuing to look into that." Hesaid the FBI was aware of the post and the pledge of allegiance, but that they have not been authenticated as of yet.
Asked if Malik may have radicalized her husband, Bowdich said he did not know. "Being a husband myself, we're all influenced to an extent," he added.

To a reporter who asked if this was the first time Islamic State has attacked the US, Bowdich replied, "I think you're taking a leap, we're not there."
He had not heard that IS (IS, formerly ISIS/ISIL) had taken credit for Wednesday's attacks, but said he was not surprised that they would.
"It only helps them to attach themselves to an attack like this," Bowdich said.
He asked the public to go on about its everyday business, and not let Wednesday's events cause a "mass hysteria."
Bowdich's comments were echoed later in the day by his boss, FBI director James Comey.
"What we hope you'll do is not let fear become disabling," Comey said, urging Americans to channel it into an awareness of their surroundings, and report things that seem suspicious to the authorities.
You can share this story on social media: