San Bernardino shooting suspects married with 6-month-old baby, husband traveled to Saudi Arabia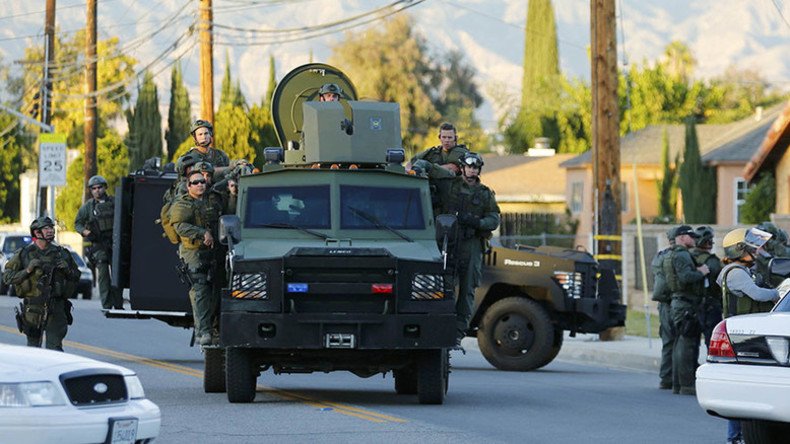 The two suspects in the San Bernardino mass shooting that claimed 14 lives and wounded 17 people were a married couple. The man recently made a trip to Saudi Arabia, returning with his new wife, whom he met online.
As the police and FBI try to piece together events that led to Syed Farook, 28 and Tashfeen Malik, 27, murdering 14 people, shocked friends and colleagues have shared stories about Farook, a devout Muslim who never struck anyone as suspicious and was generally regarded as a kind man.
"Mr. Farook is a county employee. He works with his title as an environmental specialist in the Public Health Department. He has been employed there for five years," San Bernardino police chief Jarrod Burguan told reporters after the shootings.
"He never struck me as a fanatic, he never struck me as suspicious," Griselda Reisinger, a colleague who worked with Farook until May, told the LA Times. Another, Patrick Baccari, said that upon Farook's return from Saudi Arabia, the couple and their six-month-old daughter were practically "living the American dream."
Baccari shared a cubicle with Farook. He and Christian Nwadike, another colleague, said the tall and thin Farook never acted in an irregular manner. A devout Muslim, he rarely discussed religion at work. He also almost never started conversations with others.
The entire office recently held a baby shower for Farook, before he had taken paternity leave.
READ MORE: 'Pray for us': Family members, coworkers share accounts of San Bernardino shooting
The Council on American-Islamic Relations (CAIR), who had held a press conference in Anaheim, confirmed that the couple had left their infant daughter with the grandmother early Wednesday, before being out of touch.
Farook's brother-in-law Farhan Khan made an appearance, sharing the shock and overwhelming sadness that now grips the family.
"Why would he do that? Why would he do something like this? I have absolutely no idea, I am in shock myself," he told reporters in Anaheim. "The reason I am here is to express [for] my family … how sad they are for what happened. I'm very sad people lost their lives and there are victims out there," he was quoted by the LA Times as saying.
CAIR has appealed to everyone not to jump to conclusions.
Farook and his wife, Malik, have now been confirmed as the only suspects, although a third person was arrested and taken into custody, but no further information is available at this time.
The motive remains unknown, according to authorities, but terrorism is not being ruled out at this point. Assistant regional FBI director David Bowdich confirmed this. There is speculation that an attack of this sort, and with such weapons, required a certain degree of planning.
The shooting is said to have occurred around 11 a.m. on Wednesday, at the Inland Regional Center, where some form of lunch or work gathering had been taking place.
Multiple accounts recounted by the chief point to an argument of some sort that had involved Farook. This was followed by him storming out. The pair, who were identified later, then returned.
They were clad in full assault gear, complete with balaclavas, assault rifles and handguns, and opened fire on the attendants.
Several bombs were placed on location, with authorities successfully disarming each device. Burguan described them at the conference as being a type of home-made pipe bomb.
According to the police chief, first police units had arrived at the scene of the initial shooting about four minutes after a 911 call was made. Additional units then stormed the building to rescue survivors and search for the suspects, who had fled the scene by then.
Later that day, officers followed up on a lead that led them to a home in Redlands, where they saw the black SUV driven by the suspects. A car chase ensued, leading to a gun battle involving more than 20 officers in San Bernardino. One officer was reportedly wounded and is now receiving treatment for non-life-threatening injuries. The attackers were shot dead.
At this point, all crime scenes remain active. Burguan told reporters there will be a gradual shrinking either later on Wednesday or Thursday morning. The Redlands home remains under a wide lockdown.
San Bernardino, a city of 200,000, remains paralyzed with grief. More than 350 shootings have occurred in the US in 2015 alone.
The shooting also comes just a week after a gunman killed three people at a Planned Parenthood clinic in Colorado. Earlier in October, a college in Oregon became another scene of gun violence, where nine people had lost their lives. And over the summer, a lone white gunman shot and killed nine black churchgoers in South Carolina.
President Obama addressed reporters at a conference, underlining the nature of American gun laws as one of the main culprits these tragedies keep happening. According to the president, the level of gun violence in the US "has no parallel anywhere else in the world."
Obama renewed calls for Congress to pass "common sense gun safety laws," including the implementation of stricter security measures and background checks on sales.
You can share this story on social media: