'Pray for us': Family members, coworkers share accounts of San Bernardino shooting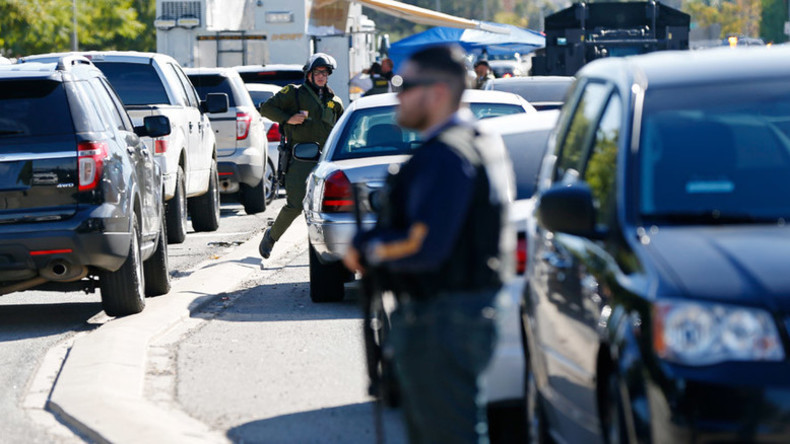 At least 14 people have been killed and at least 14 injured in an attack on a social services facility in San Bernardino, California. Witness accounts conveyed by family members and coworkers paint a harrowing picture of the attack.
Terry Pettit arrived at the scene after his daughter, who works at Inland Regional Center, texted him about an active shooting at her offices.
"She said that someone had come in and started shooting and they ran into an office and she's hiding with some other people. And my friend's daughter's in there too, so she texted and they're both hiding," Pettit told KABC.
Read more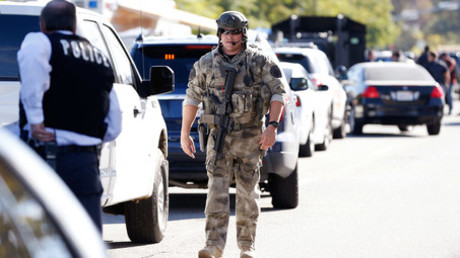 He said his daughter wrote, "People shot. In the office waiting for cops. Pray for us. I am locked in an office," before breaking down in tears.
Marcos Aguilar told KABC that his wife was just evacuated from the facility, which provides care for people with developmental disabilities.
"She said the guy came in next to her office and I guess started shooting," he said. "Then he locked himself in in her office. They've seen bodies on the floor."

"She said all she heard was the shots, she didn't get a chance to see anything," Aguilera added. "She texted me, she said that she was inside, there's a shooter inside shooting...she said I love you and I came over here."
Paul Lacroix happened to be nearby when his son Garrett, who works in the building, texted him about the incident.

"Alarms went off in the building and they were told to shelter in place," Lacroix said. "Eventually they came over the PA system and told them that they were supposed to evacuate and go to a different area, and come out with nothing in their hands, with their hands up. Now they're being loaded up into buses to be taken somewhere else, it appears to be interviews."
Sandra Wood, a teacher at a school for the blind just across the street from Inland Regional Center, said that they had taken in those who were fleeing from the gunmen.
"I heard 25 to 30 automatic rounds, then there were three people coming into our building looking for shelter," she told MSNBC. "Everyone here is safe at the school for the blind."
Brandon Hunt, an Inland Regional Services employee, narrowly missed being caught up in the tragedy. He found that the police were blocking the road to his office after returning from some errands.
"Two of [the buildings], the main two, are connected. The third one is the auditorium building where events are held, and that's where the shooting was said to happened. From what I heard, they entered through to conference center, which is a separate building," Hunt told reporters.
"From what I've heard, the casualties were from an event hosted by an outside organization," he said. "I was told that it was a banquet for county personnel."
Inland Regional Center has 670 employees and services more than 30,200 people, according to the facility's Facebook page.