2 civilians, 1 police officer killed in Colorado Springs shooting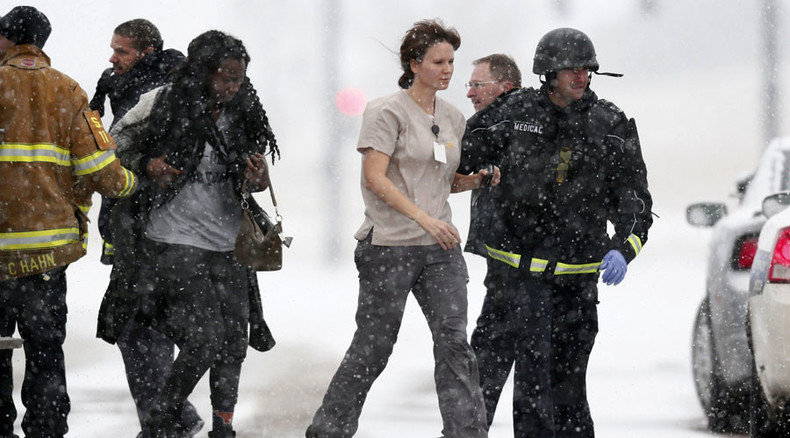 Two civilians and one police officer have been killed in a shooting at the Colorado Springs Planned Parenthood clinic. Nine people, including five policemen have been hospitalized. Police have arrested a gunman after a standoff lasting nearly six hours.
LIVE UPDATES: Colorado Springs Planned Parenthood shooting
"It is with great sorrow that we must report that one of the officers shot today the active shooter incident in Colorado Springs has died," police said.
"My heart's broken," Colorado Springs Police Chief Pete Carey told reporters during a briefing.
The officer killed in the shooting has been identified as 44-year-old Garrett Swasey, who worked for the University of Colorado in Colorado Springs. When the shooting broke out, he was on campus about 10 miles away and went to the scene "in support of an officer under fire," the school's chancellor said in a statement.
At total of nine people – four civilians and five police officers – have been taken to hospitals, according to police. They are all in "a good condition," Lt. Catherine Buckley of CSPD told reporters.
The suspect's arrest was announced nearly six hours after 911 received its first calls about a shooter inside the local Planned Parenthood clinic, located near a shopping center and other businesses, at around 11:38am (1:38pm ET). The standoff continued into the evening and it included an exchange of fire between the police and the suspect, who surrendered at 4:54pm local time.
"The perpetrator is in custody. The situation has been resolved. There's no continuing peril to the citizens of Colorado Springs," Colorado Springs Mayor John Suthers told reporters. "But there's a huge crime scene that has to be processed."
The suspect, described as a white male with a beard, about six feet tall, was then seen handcuffed while being escorted by police.
An investigation at the crime scene continues as police look for potentially explosive "items" that, they suspect, the gunman might have brought with him. According to law enforcement the examination may take hours, if not days.
"It is a very complicated scene. It is going to take days for us to process," Lt. Buckley told reporters.
A Joint Information Center is going to be set up ready for 6:00am on Saturday.
At the time that the shooting broke out, there were reportedly at least 150 people locked down inside the King Soopers, one of the venues close to the scene. Buckley could not immediately confirm the number. Shoppers in the area were instructed to shelter in place.
The gunmen had barricaded himself inside the windowless clinic, taking hostage several of its customers. Later police confirmed that about 20 people had been rescued from the scene. A livestream showed people in medical scrubs and white coats being escorted to safety.
Several hours into the shooting situation, police refused to speculate whether the clinic was the shooter's target, although Buckley confirmed that the shooting indeed started there.
"At this point, I have as many questions as you do," Colorado Springs Police Chief Pete Carey said when asked about a possible motive.
Vicki Cowart, President and CEO of Planned Parenthood, said in a statement that they "don't yet know the full circumstances and motives behind this criminal action, and we don't yet know if Planned Parenthood was in fact the target of this attack."
Media reports speculated that the shooting might have been linked to the center's services it provides, including abortion. However, Cowart told CNN that Planned Parenthood had not received any threats prior to the attack.
'It was terrifying'
The shooting and the nearly-six hour standoff drew life at a normally busy corner of the central Colorado city to a standstill. Roads in the area were closed while residents were urged to stay inside.
"It was terrifying," Denise Speller, who works at a nearby salon, told reporters. "We're still pretty freaked out. We can't stop shaking."
Speller said that she heard at least 10 gunshots and saw a police officer fall down.
"People were shooting for sure. I heard someone shooting. There was a lot of gunfire," Joan Motolinia, whose sister Jennifer Motolinia was inside the clinic, told reporters.
The man said that Jennifer, a mother of three, hid behind a table and called him.
"She was telling me to take care of her babies because she could get killed," Joan recalled.
He rushed to the scene, but was not allowed there. A few hours later he told USA Today that he still was not sure whether his sister was alive.
The city's mayor, John Suthers, has praised that police response to the shooting.
"This is a terrible, terrible tragedy that has occurred here in Colorado Springs today. Obviously, we mourn the loss of the two civilian victims. We mourn the loss of the very brave police officer," Suthers told reporters, adding that the "it could have been much worse."