Colorado Springs Planned Parenthood shooting: 3 dead, suspect in custody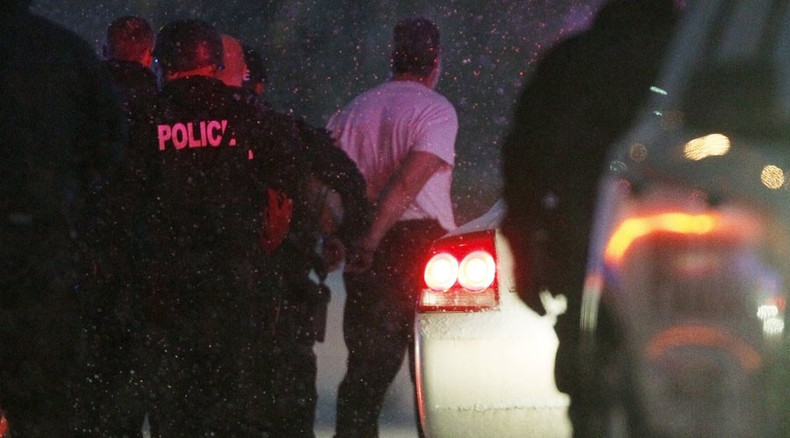 A gunman, barricaded in the shopping area near the Colorado Springs Planned Parenthood clinic, has reopened fire about two hours since the shooting broke out. At least three policemen and unknown number of civilians have been injured so far.
28 November 2015

13:48 GMT

Colorado Springs police have confirmed the identity of the suspected shooter as Robert L. Dear, 57.

04:59 GMT

FOX31 Denver is reporting that the suspect has been identified as Robert Lewis Dear from North Carolina, citing a "law enforcement source". This information has not been officially confirmed with police, who posted on Twitter that the shooter's name would "not be confirmed tonight".

02:45 GMT

The officer who gave his life today alongside the other officers put the lives of civilians in peril above his own. He died to save others.

— Colorado FOP (@ColoradoFOP) November 28, 2015

02:43 GMT

The UCCS has named the officer killed in the shooting as 44-year-old Garrett Swasey.

02:12 GMT

Two civilians and one police officer have been killed at a Planned Parenthood clinic in Colorado Springs, confirmed the mayor, John Suthers, and Lieutenant Catherine Buckley, spokeswoman for the Colorado Springs Police Department.

00:25 GMT

Five police officers from various agencies are among the 11 people who have been hospitalized, Lieutenant Buckley said.

Police are now saying that they are working with an explosives ordnance unit to determine whether "items" brought to the building by the suspect pose a threat.

00:24 GMT

The police standoff is over after nearly six hours. Mayor Suthers has praised all police officers involved saying that he was "incredibly impressed" with their actions, which prevented "a terrible tragedy" from deteriorating.