Obama, Hollande call on Turkey and Russia to prevent escalation after jet downing
Published time: 24 Nov, 2015 17:39
Edited time: 25 Nov, 2015 18:22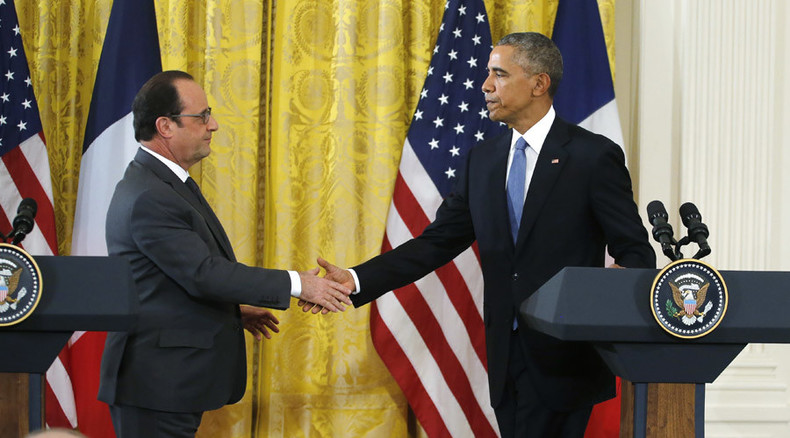 France and the US called on Turkey and Russia to avoid escalation following the downing of the Russian bomber by Turkey on Tuesday. All countries should work together against ISIS, Presidents Obama and Hollande said, following a meeting in Washington.
FOLLOW RT'S LIVE UPDATE ON DOWNED PLANE
"We can only regret" the downing of the Russian jet, and "must prevent any escalation," French President Francois Hollande said, addressing reporters at the White House. He said that NATO was still receiving information from Turkey, to find out what really happened.
"Turkey, like every country, has the right to defend its territory and its airspace," US President Barack Obama, admitting that he had no specifics yet on the incident involving the Russian jet.
In a letter to the UN Security Council, published by Wikileaks, Turkey claimed that it warned two Russian jets for five minutes that they were approaching Turkish airspace. Ankara alleges that Turkish F-16 fighters on combat air patrol shot down one of the Russian planes after it violated Turkish airspace for "17 seconds," says the letter.
Both Obama and Hollande urged caution after the incident, but reiterated their long-standing belief that Russia was not targeting Islamic State forces, but rather the "moderate opposition" in Syria, which enjoys the support of Turkey and the US-led coalition.
In the past week alone, Russian airplanes have destroyed over 1,000 ISIS oil tanker trucks and bombed a refinery outside of the terror group's stronghold of Raqqa, according to Major General Igor Konashenkov, spokesman for the Russian Defense Ministry. Cruise missiles from the Caspian Sea Fleet and heavy bombers Tu-95, Tu-22 and Tu-160 have also been deployed against IS targets.
The US president and his French guest also repeated their commitment to fighting Islamic State (IS, also known as ISIS and ISIL) by escalating the efforts of the US-led, 65-country coalition that has been conducting air operations in Iraq and Syria since last October.
"Against Daesh, we need an implacable joint response," Hollande said, using another term for the terror group. He said the recent UN Security Council resolution, proposed by France and adopted unanimously, provides the coalition with a clear basis to act.
On the issue of Syrian refugees, Obama and Hollande agreed that turning them away would betray both US and French values. Hollande rejected linking immigration and terrorism, and confirmed that France planned to accept 30,000 refugees from Syria over the next two years.
However, he added that "it is a matter of urgency" to close the border between Turkey and Syria, to prevent the terrorists from reaching Europe.
Obama likewise rejected security concerns over the possible infiltration of terrorists among the refugees. "Our humanitarian duty to help desperate refugees and our security go hand in hand," he told reporters.
Hollande, who is expected in Moscow on Thursday, was reluctant to comment on Russia's involvement in Syria. He spoke instead of the urgent need to end the civil war in the country, so the "international community" could focus on fighting IS.
"Bashar Al-Assad cannot be the future of Syria," Hollande said, referring to the elected Syrian president. "He is the problem, he can't be the solution." The multilateral talks in Vienna must focus on political transition in Syria, he added.
"We have 65 countries who are active and pushing back against ISIL," Obama said. "Russia right now has a coalition of two – Iran and Russia – supporting Assad."
Calling Russia an "outlier" in the global fight against IS, Obama added that Moscow ought to "serve as a constructive partner" to the US-led effort instead.
Moscow has repeatedly offered to coordinate its efforts in Syria with the US-led airstrikes, but the offers have been met with reluctance from Washington.
LISTEN MORE: