Russian Su-24 pilots shot dead while parachuting over Syria - Turkmen militia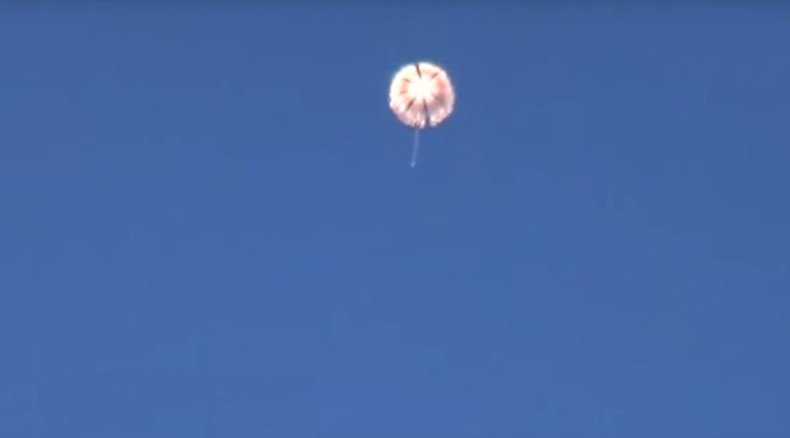 As the two Russian pilots descended by parachute after the Su-24 jet was downed, both were shot dead by Turkmen forces, Reuters reports citing a deputy commander of a Turkmen brigade in Syria.
Follow LIVE UPDATES on Russian warplane shot down at Syria-Turkey border
"Both of the pilots were dead on retrieval. Our comrades opened fire into the air and they died in the air," Alpaslan Celik, a deputy commander of a Syrian Turkmen brigade said.
He was speaking near the Syrian village of Yamadi, according to Reuters. Celik held what he said was a piece of a pilot's parachute.
However, reports have emerged the two pilots may be still alive. Ankara is working to secure their release from Syrian rebels, a Turkish government official told Reuters.

"Our units, who received the information that the two pilots were alive, are working to get them from opposition rebels safely," the official said.
The Russian General Staff said that, according to preliminary data, one of the Su-24 pilots has died after being fired at from the ground.
The search and rescue operation for the second pilot of the downed Russian aircraft is underway in Syria, it added.
A graphic video posted earlier on social media purported to show a Russian pilot lying on the ground surrounded by a group of men praising Allah.
The men reportedly regretted they hadn't burned him on the spot.
The video was sent by a rebel group operating in the northwestern area of Syria, where groups including the Free Syrian Army are active but Islamic State has no known presence.
Jahed Ahmad, a representative of the 10th Brigade in the Coast, the rebel group that attacked the pilots, told AP that at least one of the Russian pilots was dead upon landing.
An additional protocol to the Geneva Convention strictly bans attacks on persons parachuting from an aircraft in distress.
According to the protocol, if the person in distress is not acting in a hostile manner, he is to be given the chance to surrender after reaching the ground.
A Russian Su-24 bomber was shot down by Turkish fighter jets near the Turkish-Syrian border on Tuesday.
READ MORE: Lavrov cancels Turkey visit over downing of Russian military jet
Turkey said it was rightfully acting to defend its sovereignty as the warplane had violated its airspace and hadn't responded to warnings.
Moscow has denied Turkey's claims, saying its plane was downed in Syrian airspace, where Russia is conducting an air operation against Islamic State and other terrorists.
Vladimir Putin called Ankara's actions "a stab in the back delivered by accomplices of the terrorists," adding that it will have severe consequences for relations between Russia and Turkey.
LISTEN MORE:
You can share this story on social media: