Russia offers US 'broader cooperation' in Syria, but Washington not ready – Defense Ministry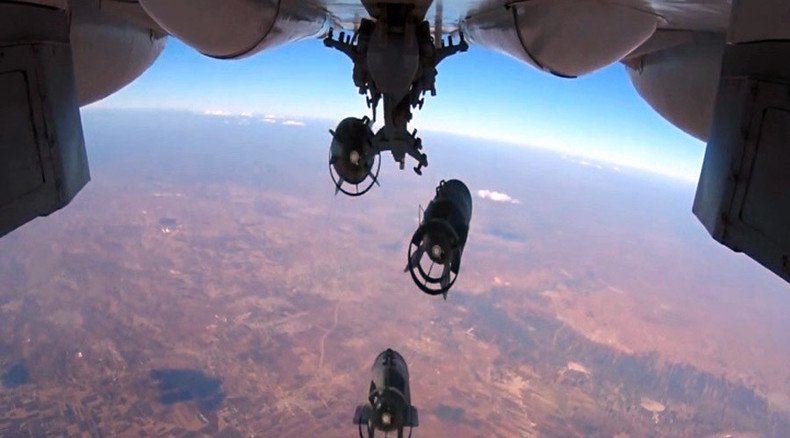 Russia is offering the US "far broader cooperation" than merely the coordination of air strikes in order to fight Islamic State in Syria, but Washington is not ready to accept it, the Russian Defense Ministry has stated.
"We are holding talks with our American partners on concluding an agreement on ensuring the safety of flights over Syria. But that's not enough. We are offering far broader cooperation that Washington is not ready for yet," Deputy Defense Minister Anatoly Antonov said during The Xiangshan (Fragrant Hills) conference in China.
READ MORE: Russian Navy can strike ISIS positions in Syria anytime – general
The offer of a wider collaboration and coordination, the deputy minister said, extends to all countries and Russia is actively trying to unite all those involved. Antonov says Russia has a direct phone line with Turkey, and Moscow is actively consulting with Israel and the Gulf States. Last week, Moscow even announced that it was ready for contact with the Free Syrian Army to help root out Islamic State (IS, formerly ISIS/ISIL) from Syria.
On Friday, the US and Russia reached a deal on coordinating their passage through Syria's airspace, and agreed to "sign documents on safety in Syrian skies," the Russian military said in a statement.
"All technical issues are agreed upon," it said, after a lengthy set of discussions, as Russia continues its own bombing campaign.
Briefing the press, Colonel-General Andrey Kartapolov said that the memorandum on flight safety was expected to be signed by Moscow and Washington "in the very near future."

Russia's Defense Ministry reiterated that Moscow was ready to extend cooperation on avoiding conflict in the skies over Syria with the US and all other concerned parties. Antonov has expressed hopes that the memorandum signed by Moscow and Washington will serve as a "foundation" for increased cooperation, as well as a set of guidelines for all members of the fight against IS.
President Barack Obama however said that larger issues over Syria remain unresolved.
"Where we will continue to differ is in the basic set of principles and strategies we are pursuing inside of Syria," Obama said during a White House news conference.
But that is not reason enough, according to Antonov, for avoiding further cooperation.
"A small example of this refusal for increased cooperation is the issue of rescuing pilots. Heaven forbid that tomorrow we see a downed anti-ISIS coalition jet – a coalition led by the United States. Heaven forbid, the pilots find themselves in ISIS-controlled territory… Is there no more humane cause than to unify our efforts to rescue that pilot?", Antonov mentioned.
Speaking in China, Antonov also criticized the American general approach, saying the international community should not remain silent in the face of some countries trying to achieve their "selfish national objectivities" by supporting terrorist groups.
"We cannot turn a blind eye to the fact that individual countries help terrorist groups, counting on achieving their own selfish national objectives," he said.
The deputy minister especially stressed the fact that terrorists have allowed foreign beneficiaries to control their activities, as long as they are weak, but once they accumulate power, they get "out of control."
"Not so long ago the participants in the so-called Islamic State's, inhumane acts which continue to shock the world, too, were 'good' terrorists, generously paid 'fighters for democracy' in Syria," said Antonov. "Terrorists allow others to control them until the moment they become strong, and then they get out of control."
With regard to the accusations levelled at Moscow for not exclusively hitting IS targets, Antonov said: "We are constantly coordinating our actions with the Syrian army. We only carry out precise strikes on confirmed IS targets... Any possibility of hitting military or civilian infrastructure, especially populated areas and mosques, as has been the line regularly promoted by Western media, is out of the question."
LISTEN MORE:
You can share this story on social media: