500k+ homeless in US, numbers rise in New York, other big cities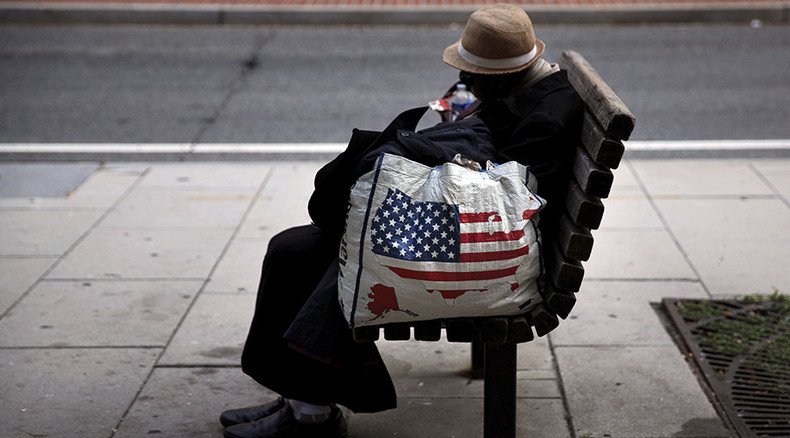 About 565,000 people were homeless in the United States, according to a one-night federal survey. While this is a two percent drop from 2014, major cities like New York, Seattle and Los Angeles continue to battle rising homelessness.
The US Department of Housing and Urban Development's 2015 Annual Homeless Assessment Report to Congress found that of the 565,000 homeless counted during a point-in-time survey conducted in January, a quarter of them were children below the age of 18.
The total number of homeless represented a two percent decrease from 2014, and an 11 percent drop from 2007.
Point-in-time counts consider those sleeping in shelters, in subsidized transitional housing, or on the streets. Advocates say, though, that there are likely many more who are homeless but aren't accessible to the department's survey, such as those sleeping on a friend's couch.
Furthermore, advocates aren't impressed with a slight decline in national numbers given the ongoing, if not worsening, homeless crisis in large urban areas of the US. They say a sluggish recovery from the Great Recession, along with rising housing costs, stagnant or falling wages, and a political contempt for social welfare programs are reasons for high homeless rates in cities.
"I am glad it's trending downward, but a 2 percent change (nationally) is pretty much flat," Nan Roman, president of the National Alliance to End Homelessness told Reuters.
"We are 7 million units short of affordable housing for low-income people – that's a big gap," Roman added.
In New York City, Mayor Bill de Blasio announced Wednesday that the city would build 15,000 new units designed for the homeless and mentally ill over the next 15 years. The city acted without its traditional partner, the state of New York, signaling that it could not wait for the stalled negotiations with the governor's office over a new long-term housing agreement. The city has about 60,000 homeless living in shelters and on the streets, according to Capital New York.
"Despite national estimates, New York City continues to experience near record homelessness," Giselle Routhier, a spokeswoman for the Coalition for the Homeless, told Reuters.
On Thursday, Seattle Mayor Ed Murray toured one of two homeless camps that are set to open soon on city property to address a 22 percent increase in homelessness, The Stranger reported. The city council approved three encampments earlier this year, responding to the nearly 4,000 homeless in Seattle, according to KUOW. This month, Murray and the local county executive declared a state of emergency regarding homelessness.
Los Angeles, California, leads the nation in chronically homeless, with 12,536 individuals, a 55 percent increase since 2013. More than one-third of the chronically homeless in the US live in California, HUD said.
READ MORE: Los Angeles declares 'shelter crisis' to aid homeless
HUD's report found that 17 states, including New York and California, saw increases in homelessness this year, while 33 states and the District of Columbia had declines. Florida, Texas, Georgia, Michigan, and New Jersey had the biggest drops.
About 1.49 million people across the US used a homeless shelter in 2014, a 4.6 percent rise from 2013, according to Department of Housing and Urban Development (HUD) spokeswoman Heather Fluit.
HUD said that there has been a 26 percent decrease in the unsheltered homeless population nationally since 2010, coinciding with President Barack Obama's Opening Doors initiative to prevent and end homelessness. Since 2010, HUD said veteran homelessness has declined by 36 percent, family homelessness went down by 19 percent, and chronic homelessness decreased 22 percent.

"The Obama Administration has made an historic commitment to effectively end homelessness in this nation," said HUD Secretary Julian Castro. "Together with our partners across the federal government and communities from coast to coast, we have made tremendous progress toward our ambitious goals. But our work is far from finished. We have to continue making smart investments in the strategies that work so that everyone has a place to call home."
You can share this story on social media: