Homeless army veteran, 82, dies hours after eviction from squat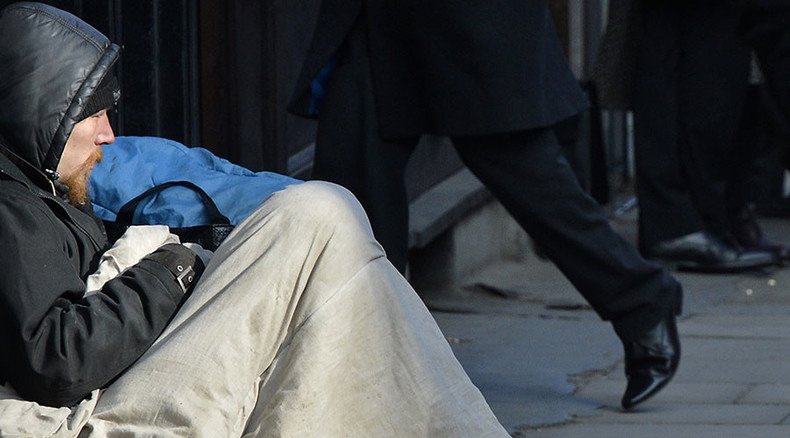 An elderly ex-soldier who had been sleeping rough for 20 years died hours after being evicted from an abandoned building in Manchester, it has emerged.
The veteran, known only as George, died after contracting bronchial pneumonia, according to the Salford Armed Forces Veterans Network (SAFVN).
He was living in a squat in Manchester city center with 12 other homeless ex-servicemen.
A court order had been obtained for their eviction, forcing the group to vacate the building they were living in.
The 82-year-old had reported suffering a cold and a bad chest. His fellow ex-servicemen took him to the Salford Royal Hospital on Sunday night, where he died a few hours later with four of them at his bedside.
'We are turning our backs on troops'
The SAFVN, which is in contact with the rest of George's group, said the veteran's death shows Britain is turning its back on former service personnel.
"It seems incredible to me that we are turning our backs on our troops who have taken the Queen's shilling, sworn the oath of allegiance and offered up their lives to keep us safe," SAFVN chairman Chris Barwood told Manchester Evening News.
"In return we do nothing to ensure that they have a roof over their heads and food in their bellies for their remaining years," he said.
"His small band of brothers, 12 other ex-soldiers living on the streets of Manchester, were evicted from a building in the center of the city. Although not an ideal resting place, at least it sheltered them from the rain, wind and cold," he added.
The SAFVN is planning George's funeral and searching for his relatives.
His death comes weeks after Manchester United football legends Gary Neville and Ryan Giggs allowed a group of homeless people to stay at the old Stock Exchange building, which they now own.
Homelessness in the UK has risen in recent years. According to Homeless Link, the number of people sleeping rough has increased by 55 percent since 2010, when Prime Minister David Cameron came to office.
In February, homeless spikes were placed outside the Selfridges department store in Manchester to stop rough sleepers bedding down outside the building.
The spikes angered many locals and activists in the area. On social media, campaigner Cathy Urquhart said: "We should be looking after the homeless not demonizing them."
Manchester City Council says it is now opening up empty buildings to be used as overnight shelters for the city's rough sleepers.
You can share this story on social media: