Los Angeles declares 'shelter crisis' to aid homeless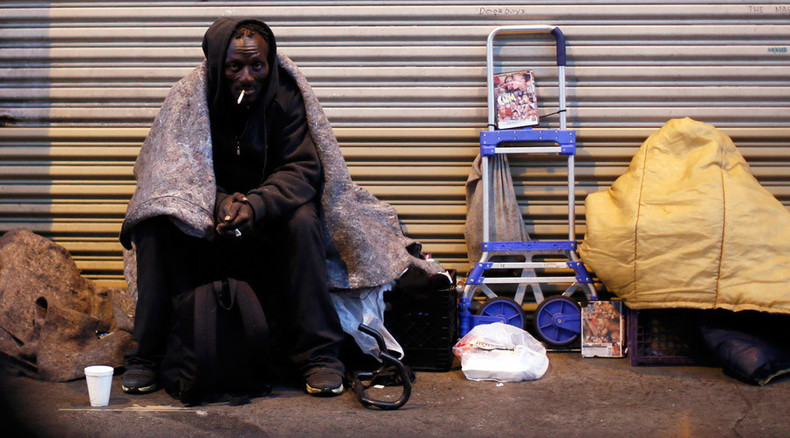 Overwhelmed by the city's growing homeless population, which has increased by 12 percent in just two years, and facing an increase in complaints from neighborhoods about encampments, the Los Angeles City Council has declared a "shelter crisis."
The measure was adopted by the Los Angeles City Council on Tuesday in a 14-0 vote. It creates a legal framework for the city to provide temporary housing to homeless men and women in public buildings and parking lots.
"While we're building the infrastructure, we're finding ways to address homelessness. We have a long way to go," said Councilman Jose Huizar, co-chair of the Homelessness and Poverty Committee, according to the Los Angeles Times. "It's going to be a long road ahead of us."
The rise in homelessness over the last two years is forcing officials to seek housing solutions for the city's estimated 26,000 people dwelling on streets, in shelters, and living in cars, reported LA Daily News.
The city's Municipal Code currently permits a shelter crisis to be in effect during the cold winter months – from November 1 to March 31. The vote on Tuesday extended the crisis to the spring and allows council members to designate additional buildings in their districts as temporary housing for the homeless, the LA Times reported.
Before the vote, city council members heard testimony from residents and activists from the San Fernando Valley and San Pedro who said that homeless encampments have cropped up near their homes, sometimes populated by people committing illegal acts, such as drug use and prostitution.
"It's not something that we haven't been dealing with for 40 or 50 or 60 years, except that it's worse," Judith Hirschberg told the council, according to newspaper. "In my nice neighborhood, we have people who have no place to sleep, come into vacant homes and set fires. It's not a good idea."
In October, the LA County Board of Supervisors declared a shelter crisis ahead of El Nino, which could bring storms that could cause flooding in many homeless encampments. Winter shelter beds were also increased from 600 to 861.
The council is due to hold a fuller debate on homelessness in January, when it reviews the Homelessness Strategic Plan and discusses how to fund a $100 million plan for homeless programs.
A report released in August found that about 13,000 of LA county's 2 million residents receiving some form of public assistance slip into homelessness every month, nonetheless.
Researchers at the LA-based Economic Roundtable said that 70 percent of the 13,000 people tumbling into homelessness quickly find work or rely on family to get off the streets. However, a quarter of those people, amounting to some 3,700, were experiencing periods of "continuous, unremitting, chronic homelessness," when they were homeless four or more times within three years.
The problem has been escalating despite 10,000 people being placed in housing over the last three years, according to the report. The population of Los Angeles County was estimated to be over 10 million by the 2014 United States census.
You can share this story on social media: