Fantasy sports sites sue New York AG for 'shocking overreach'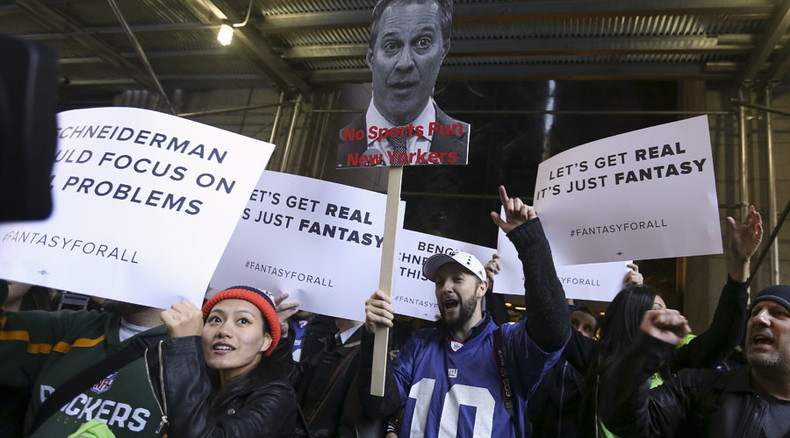 Daily fantasy sports sites FanDuel and DraftKings have sued New York State Attorney General Eric Schneiderman after he sought to ban them for illegal sports gambling. Supporters of the fan sites have gathered to protest outside Schneidermann's office.
In petitions to the court, FanDuel and DraftKings – top daily fantasy sports sites in an industry that makes $2.6 billion in entry fees, according to Schneiderman – called the attorney general's actions an illegal affront to their businesses, saying that a ban in New York State would cause irreparable harm, reported ESPN.
"He has unleashed an irresponsible, irrational and illegal campaign to destroy a legitimate industry," the court filing said. The companies asked the court to allow them to continue business operations in New York while legal wrangling continues.
The fantasy sports sites contested Schneiderman's characterization of their businesses as amounting to a game of chance instead of skill. Being a game of chance would make the sites' operation illegal in New York, the AG has said. The companies pointed to Schneiderman's mention that a small amount of people won most of the money on the sites, arguing that this proved their offerings were in fact a game of skill.
The two companies also decried Schneiderman's order for payment operators to discontinue financial transactions to the sites' New York customers.
"FanDuel's business does not constitute 'bookmaking' under New York law because the underlying DFS contests are not gambling and because FanDuel does not stand to profit based on the results of those contests (or have any economic interest in one outcome over another, as a casino or bookmaker would.)," the lawsuit said.
Following an investigation into DFS sites, Schneiderman's office announced on November 11 that it had sent cease-and-desist letters to FanDuel and DraftKings, calling on the sites to halt all wagers in the state.
READ MORE: 'Not in New York, not on my watch': State AG bans 2 fantasy sports giants
"Daily fantasy sports is neither victimless nor harmless, and it is clear that DraftKings and FanDuel are the leaders of a massive, multi-billion-dollar scheme intended to evade the law and fleece sports fans across the country," he said. "Today we have sent a clear message: not in New York – and not on my watch."
In response to the lawsuit against his office, Schneiderman said in a statement that his job "is to enforce New York State law," and that his office will continue its efforts to shut down the companies.
"Because both companies have refused to follow the law in our state, we will take action to enforce state law," the attorney general said Friday.
On Friday morning, hundreds of fantasy sites' customers gathered outside Schneiderman's office to protest the ban. The protesters – holding signs that read "Keep your laws off my lineup" and "If only politics were skill-based" – were led by FanDuel co-founder Tom Griffiths.
"He acted unlike any other AG in the country... It's surprising that he has acted unilaterally overnight to shut us down," Griffiths told Business Insider.
DraftKings and FanDuel were banned in Nevada in mid-October.
Both sites let customers create "fantasy" teams of real professional sports players and follow their progress as the players rise and fall during sports seasons and events. There is an entry fee to participate and cash prizes are paid out depending on fantasy teams' performance and success.
The fantasy sports industry found itself in the spotlight in September, after DraftKings employee Ethan Haskell, won $350,000 at FanDuel shortly after releasing game line-up data before the start of the third week of the National Football League (NFL) season. Normally, the data is not released until after certain games are played.
Fantasy sites have partnership agreements with major sports leagues in the US – including Major League Baseball (MLB), NFL, and World Wrestling Entertainment – as well as individual teams in the NFL, MLB, National Hockey Association (NHL), and National Basketball Association (NBA). Major broadcasters like ESPN and Fox Sports also have lucrative deals with fantasy sites.