Shackled man tased 20 times in 30 min; police blame cocaine for his death (VIDEO)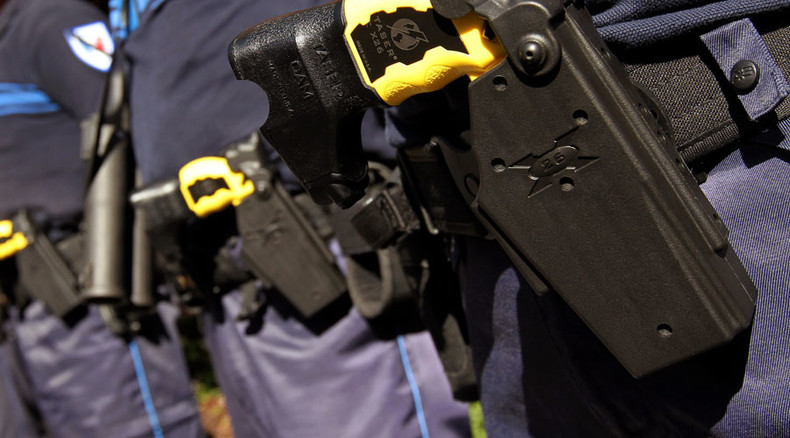 Horrifying videos of Virginia cops tasing a handcuffed man 20 times over half an hour have been released, leaving the victim's family to question the events that led to his death and accuse the police department of covering up details about the incident.
Linwood 'Ray' Lambert was staying at a motel in South Boston, Virginia when other guests called police, complaining that the 46-year-old was being too loud. Three officers arrived to find Linwood acting paranoid, hallucinating and telling them there were bodies buried in the ceiling, they said.
Deciding he needed medical attention, the officers handcuffed Lambert to bring him to a nearby hospital, assuring him, "We're not locking you up, we're going to the ER." During the ride, though, Lambert became increasingly agitated. When they pulled up to Sentara Halifax Regional Hospital, he kicked out the squad car window. After the officers opened the passenger door, Lambert jumped out and sprinted towards the ER entrance, where he crashed into the glass doors.
Corporal Tiffany Bratton, Officers Clifton Mann and Travis Clay chased after Lambert and began tasing him, dashboard camera and hospital surveillance videos obtained by MSNBC show. Lambert's body stiffened and crashed to the ground. With his hands still cuffed, he was unable to break his fall. The three cops surrounded him, with one ordering him to "stay down," and Bratton telling him, "Every time you get up, I'm going to pop you."
"I didn't do nothing," Lambert replied, moaning.
"I'm going to light you up again – roll over, roll over, turn over!" Bratton said.
The officers tased Lambert again, then placed him in leg shackles.
"I just did cocaine," Lambert said, leading the officers to tell him he was under arrest for disorderly conduct and destruction of property.
"Why are you trying to kill me, man?" he asked the cops, then begged them to stop the tasing, saying, "Don't do it, please don't do it, please, officers."
Nurses in the hospital said they saw "three officers" tasing Lambert "at one time," according to hospital records obtained by MSNBC.
At that point, instead of taking Lambert inside the ER, the officers decide to take him to jail, even though he was "under obvious respiratory distress. He was perspiring heavily, breathing heavily. It appears he's no longer responsive," Tom Sweeney, one of the Lambert family's lawyers, told CBS News.
The three officers continued to tase Lambert after they put him back in the squad car. In all, he was stunned 20 times over a 30-minute period, receiving 50,000 volts each time he was hit. The combined length of discharges amounted to about 87 seconds of tasing – a level capable of inflicting serious injury or death, according to federal guidelines.
"There is no circumstance under any standard where anyone should be tased the number of times or the length of time that Mr. Lambert was tased," Joe Messa, an attorney for the Lambert family, told USA Today.
An hour after Lambert first encountered the police at the motel, he flatlined. He was pronounced dead at 6:23 a.m.
"Anyone who watches this videotape would not think it is outrageous or inappropriate to suggest that what these police officers did was tantamount to murder," Messa told the Richmond Times-Dispatch, calling the suggestion that Lambert died of a cocaine overdose "laughable."
The South Boston PD's use of force policy, which was last updated in 2012, says that the use of a Taser "is no longer justified once the subject has been restrained or is under control." It also prohibits force "as a threat to make a person comply with an officer's verbal order when no physical violence is imminent."
"They're saying it's justified because they have no other answers as to why they used so much force with a man who was already restrained," Lambert's sister, Gwendolyn Smalls, told CBS News.
"To see what happened to him was just devastating," she added.
An autopsy listed Lambert's cause of death as "acute cocaine intoxication," but Sweeney says the amount of cocaine in Lambert's body was low and the actual cause of death is now clear.
"I think it's obvious on the video tape ‒ here's a man who was tased repeatedly and it caused him to have cardiac arrest," Sweeney said.
Press releases issued by the Virginia State Police and South Boston authorities in the weeks after Lambert's death in May 2013 did not mention that he had been tased, the Times-Dispatch reported. The victim's family has accused the police of covering up the details of Lambert's death, as well as claiming that the South Boston Police Department failed to properly train its officers to properly use Tasers.
"The death of Linwood Lambert Jr. is tragic because it could have been prevented," lawyer Ramon A. Arreola said in a press release when the family filed a $25 million lawsuit in April. "The use of TASER weapons by law enforcement officers has resulted in hundreds of unnecessary deaths across the United States."
The suit names South Boston Police Chief James W. Binner and Deputy Chief Brian K. Lovelace, as well as 15 male and 15 female "John Doe" officers. One of the family's complaints is that key people involved in the case remain a mystery.
"They need to face the justice system the right way," Smalls told AP. There have been no charges filed against any of the involved officers, who have said that tasing Lambert was "an appropriate and necessary use of force alternative to more harmful and lethal options available."
At a hearing for the lawsuit on Thursday, family lawyers agreed to drop the word "murder" from the complaint in reference to Lambert's death. Lead defense attorney James A.L. Daniel argued that the reference "had nothing to do with this case."
The county prosecutor's investigation into Lambert's death remains open.
You can share this story on social media: