Video shows brutal restraint, fatal tasering of mentally ill woman at Fairfax jail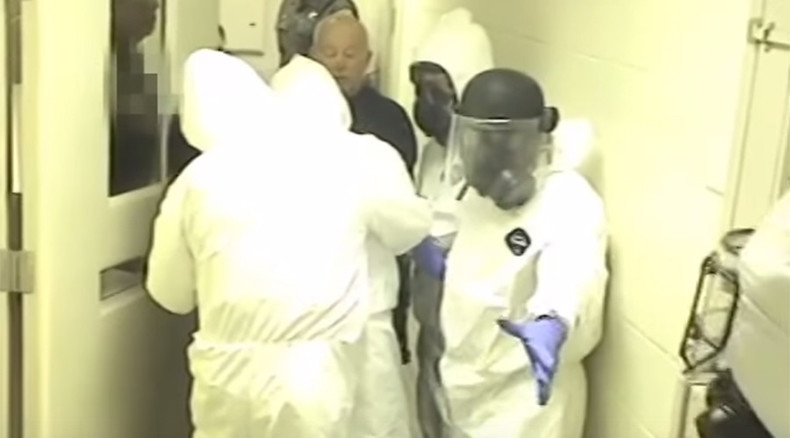 Fairfax County has released the video of deputies struggling with a mentally ill woman, who died after being repeatedly shocked with a stun gun. Virginia authorities declined to press charges, ruling the death of Natasha McKenna a 'tragic accident.'
The 46-minute video shows the team of deputies, dressed in full biohazard gear with shields and masks, wrestle McKenna on the ground and struggle with her for over 20 minutes.
"You promised you wouldn't kill me," McKenna says as she stumbles out of the cell, naked. "I didn't do anything." At one point, she is shocked by a taser four times, and passes out. She lapsed into a coma and died several days later.
McKenna, 37, was arrested in January for attacking a police officer in nearby Alexandria. She had a documented history of mental illness, including schizophrenia, bipolar disorder and depression. The recorded incident happened on February 3, a team of six deputies was sent to retrieve McKenna from her cell and transport her to Alexandria for a hearing.
WARNING: DISTURBING IMAGERY
The decision to release the footage comes two days after the Commonwealth's Attorney Raymond Morrogh declined to press criminal charges against any of the officers involved. Morogh's report described McKenna's death a "tragic accident," blaming her "severe mental illness, coupled with the tremendous physical exertion" from her struggle with the deputies.
At the end of the video, McKenna is loaded into an ambulance and transported to a hospital. The physician who treated her, referenced in Morrogh's report as Dr. Forgash, diagnosed "excited delirium, sudden cardiac death." She had suffered respiratory failure and serious brain and muscle injuries resulting from oxygen deprivation.
The Virginia medical examiner who conducted McKenna's autopsy, Dr. Jocelyn Posthumus, ruled the official cause of death to be "excited delirium associated with physical restraint including use of conducted energy device."
Fairfax County sheriff Stacey Kincaid has resisted calls to release the video for months, and only did so following the state's decision not to press charges in the case. Kincaid, a Democrat, became the first female sheriff in the affluent Virginia county in 2013, easily defeating law enforcement veteran Bryan Wolfe. With a new election coming in November, Wolfe is blasting Kincaid's handling of the affair.
"The Natasha McKenna case is one of the biggest mismanaged and mishandled cases I've seen in 30 years of police work," Wolfe, a former Fairfax City police officer and supervisor, told the Washington Post in July. "With crisis intervention training deputies would have been able to de-escalate her actions that day."
Kincaid's campaign page says that she is working with mental health advocates, officials and legislators to implement and fund programs "so that people get the help they need and mentally ill persons are kept out of jail."
Questions have been raised about Morrogh's report describing McKenna – 5'4" tall and weighing 181 pounds – as having "superhuman strength."
"There is no evidence that any of the deputies acted maliciously, sadistically or with the intent to punish or cause harm to Ms. McKenna at any point in the struggle," the report concluded. "To the contrary, they did their best, under very difficult circumstances, to restrain, control and prevent Ms. McKenna from injuring herself or others."
"cops did their best... to restrain, control and prevent Ms. #McKenna from injuring herself" (right up until they killed her apparently)

— Mo Xie (@M0X1) September 10, 2015
Critics say "excited delirium" is a catchphrase used to dismiss deaths in police custody that occur after inmates have been shocked with Tasers. Earlier this year, surveillance footage emerged showing a Louisiana man getting wrestled to the floor of a jail cell by six officers, tased, and left to die in November 2013.
Ervin Leon Edwards, 38, had been arrested for wearing "sagging pants" and being "combative" when officers confronted him about a fight with his girlfriend. His autopsy cited "acute cocaine and phencyclidine (PCP) intoxication in association with restraint by law enforcement," but concluded the actual cause of death remained "undetermined."