Death in jail cell: Video reveals man arrested for 'sagging pants' left to die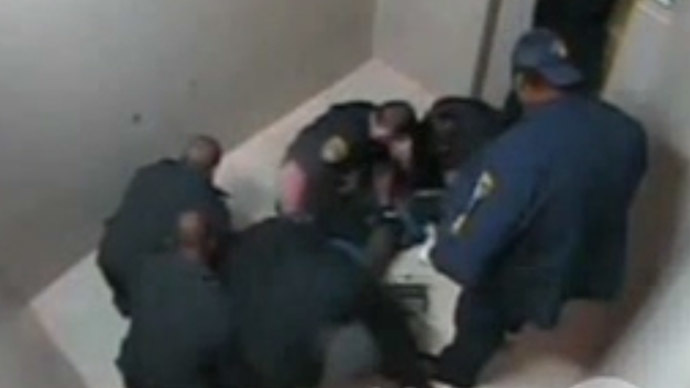 Newly released video shows the last moments of a Louisiana man arrested for wearing "sagging pants." Police pile onto him shocking into submission, then leave him lying face down on the jail floor for ten minutes. When they return, he is dead.
Ervin Leon Edwards, 38, was arrested on November 26, 2013, after police in West Baton Rouge Parish responded to a call that he had been arguing with his girlfriend at a nearby gas station. When they arrived, the officers saw no argument, but began questioning Edwards over his "sagging" pants, and arrested him when he became "combative."
A number of southern Louisiana parishes have banned pants that "fall below the hips, expose underwear or create indecent exposure," with fines ranging from $25 to $100.
The autopsy report described Edwards as "morbidly obese" and listed his cause of death as "acute cocaine and phencyclidine (PCP) intoxication in association with restraint by law enforcement." Death investigators call the reasons of his death "undetermined".
Footage from the jail surveillance cameras, released by the local newspaper The Advocate, shows Edwards being dragged into the cell by several officers, subdued by a stunner, and left motionless on the floor.
Port Allen police officer Dustin McMullan wrote in his report that he used a Taser against Edwards for just one five-second cycle. "However, the Taser did not appear to have any effect on Edwards," McMullan wrote, so he put it away and "again assisted in restraining Edwards using empty hand control techniques."
The video, however, shows McMullan keeping the stun gun pressed firmly against Edwards for nearly a minute and a half. While the officers and jail staff present obstruct the camera's view, a bright blue light can be seen between the stun gun and Edwards on several occasions during a roughly 45-second period, reported The Advocate.
In the wrongful death lawsuit filed in February 2014, Edwards' family said he suffered from high blood pressure, partial deafness and a mental disability. The lawsuit also claims Edwards' girlfriend "begged" the officers not to shock him, telling them he had high blood pressure.
"The drugs didn't kill him," said Viney Edwards, Ervin's mother. "The police killed him."
Cops Arrest Man for "Sagging Pants" Tase Him, Leave Him Face Down in Cell Until He Died http://t.co/exnSCO0S18 video - Ervin Leon Edwards 38

— anne hillebrand (@annehillebrand2) April 23, 2015
Internal review of the events surrounding Edwards' death did not reveal any criminal wrongdoing by officers or jail staff, the spokesman for West Baton Rouge Parish Sheriff's Office told The Advocate. Police and correction experts interviewed about the video tend to disagree.
"This is bad practice all the way around," said Glenn Holt, a corrections expert with more than 20 years of experience. "One of the worst things I've seen."
READ MORE:Louisiana police killed man, misled mother for 6 months over his death
Greg Meyer, a retired captain formerly with the Los Angeles Police Department and recognized nationally as a use of force expert, said the police should have asked for immediate medical intervention as soon as it was obvious Edwards had stopped moving.
"This incident has all the appearances of a typical arrest-related death that happens hundreds of times each year around the country," Meyer said, "and this subject may well have passed away regardless of police and medical intervention."
As for the pants that provided the pretext for the arrest, the police yanked them off Edwards and left them in the hallway of the jail. The video shows what appears to be a jail worker casually kicking them out of the way as he checks on Edwards, just before calling for medical assistance.
You can share this story on social media: