Alabama student tasered, beaten over noise complaint (VIDEO)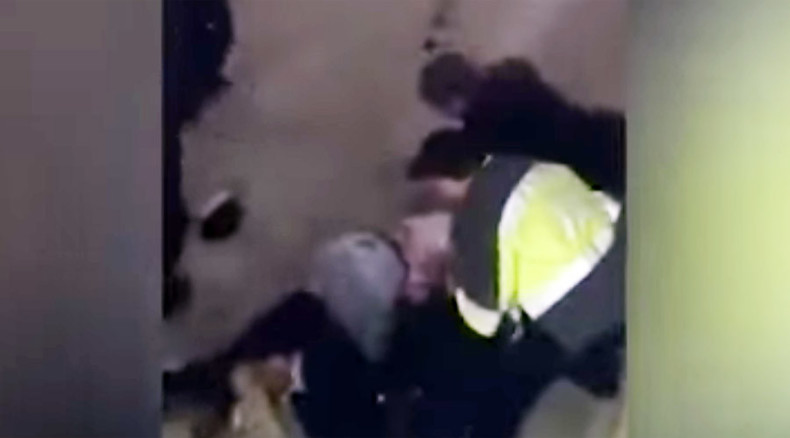 Several videos showing a University of Alabama student being tasered and beaten by police have emerged, showing the arrest over a noise complain from different angles. Internal affairs are investigating the controversial bust.
Police were called to address a noise complaint at a Tuscaloosa, Alabama apartment complex around 3 a.m. on Sunday morning, according to AL.com. An officer came to the door full of students and said that one of them was under arrest, but would not respond with a reason when asked why.
WARNING: Videos contains explicit language and violent content.

The officer at the door is seen holding a male student by the arm and the shirt, demanding that he come outside. The students rebuke him, saying that he is not allowed to be in the apartment.
The scene became chaotic when students continued to confront the officer. In one of the videos, a female voice repeatedly asked what the student was being arrested for, and a male student at the door got close to the officer to make inquiries as well.



"Back up!" the officer yelled as he pushed back a male student with his night stick.
"Sir, it's on video," the student said before the officer lunged at him and cut him off.
Officers ended up entering the apartment. The male student was then pinned to a wall by officers, shocked with a stun gun and dragged outside. As those inside the apartment begin to shout during the commotion, an officer told them to "shut the f--- up." When he was told that the incident was being videotaped, he said, "I don't give a s---."
READ MORE: Texas cop fatally shoots 19-year-old black college football player
At least a dozen police officers were on the scene, and two male students and one female student can be seen being wrestled to the ground in one video. The young man who confronted the officer at the door was again hit with a stun gun and repeatedly struck with a night stick while being restrained on the ground.
The three students were taken into custody.

Tuscaloosa police Chief Steve Anderson told AL.com he received the video Sunday evening. "I have forwarded the video to our Internal Affairs investigators. They will begin an investigation tomorrow," Anderson said.
The Tuscaloosa Police Department released a statement, saying that the incident occurred on November 8 at 3:19 a.m. in response to a complaint about loud music.

"A full investigation of the circumstances that are depicted in these videos will be conducted and all appropriate measures taken to ensure the integrity of the Tuscaloosa Police Department in serving the citizens of Tuscaloosa," the statement says.