New Yorkers rally outside NBC studios to protest Trump hosting SNL (VIDEO)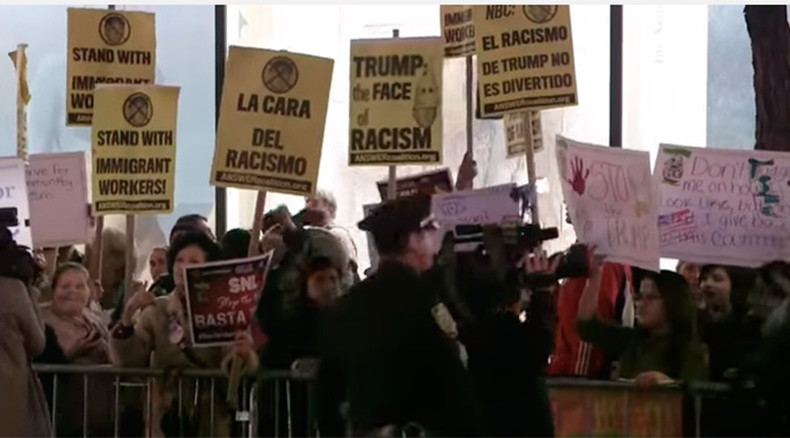 Republican presidential frontrunner Donald Trump appeared on the mega-popular Saturday Night Live comedy skit show, as a crowd gathered outside NBC studios in New York City to protest the decision to have him host it.
There appeared to be people on both sides of the fence. At one point, a punch was almost thrown, but the NYPD was on hand to separate the two men holding signs. The sign belonging to the man escorted away said something about the Jews controlling the US media.
On the SNL set, the situation was markedly sunnier, but even there, things didn't go according to plan when cries of "You're a racist! Trump's a racist!" were heard from the audience, just as Trump was getting into his comedy routine.
READ MORE: Hillary Clinton: Bill would run for president again if he could…but I would win
Turns out the heckler was actually comedian Larry David, who joked about getting his hands on that $5,000 bounty promised by a Latino rights group to anyone who called Trump out on his alleged racism, most notably his statements on Mexican immigrants.
The group was happy to report a winner.
Trump was reportedly on the show to show he could "take a joke," as the entire SNL monologue suggests. There was a fair amount of put-on self-aggrandizement, which was obviously all in good humor. Even two Trump-alikes joined him on stage, parroting his mannerisms and opinions. Alas, this couldn't save The Donald from Larry David.
READ MORE: Twitter disses Ben Carson's rap ad
"Who the hell is…? I knew this was going to happen!", Trump said, rolling his eyes, as Larry David admitted what he was there for. Despite the tense situation outside, SNL managed to pull this one off in its usual lighthearted style and good spirits.
LISTEN MORE: