If you can beat 'em, join 'em: Amazon opens first physical bookstore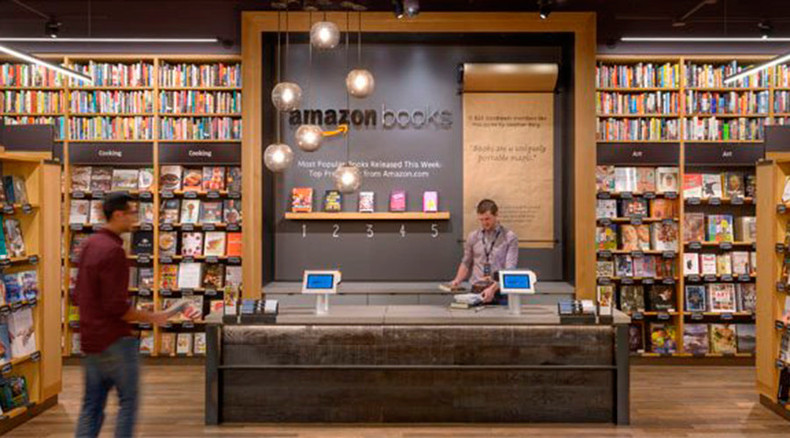 E-commerce powerhouse Amazon has spent over 20 years building up its profile as the largest online-based retailer in the US while helping shutter bookstores from coast to coast. Yet Tuesday, the company opened its first brick-and-mortar bookstore.
Amazon Books opened in Seattle's University Village, with both traditional books available as well as e-reading devices such as Kindles, Fire TV, and the Echo. To decide which books will be in stock, the store will rely on Amazon.com customer ratings, sales data, and its popularity on Goodreads.
Open seven days a week, except on holidays, the store will feature books with the cover facing out, rather than the usual method of shelving them with spines out. The displays will feature each book's Amazon rating and a customer review. Online pricing will apply.
"We've applied 20 years of online bookselling experience to build a store that integrates the benefits of offline and online book shopping," said Jennifer Cast, vice president of Amazon Books, in a letter on the company's website.
The company has not said whether more offline bookstores are on the way.
Traditional booksellers have struggled to keep up with online retailers like Amazon. Borders Group Inc. closed its stores in 2011 after filing for bankruptcy, and Barnes & Noble Inc. has struggled to keep afloat, with sales declining both at physical stores and online.
"Changing consumer behavior and increasing competition from e-commerce and alternative retailers like mass merchandisers have been hampering growth over the past five years for the Book Stores industry," according to an October report on US bookstores by market research firm IBISWorld.
The bookstore industry's revenue is expected to drop to $13.2 billion in 2015, down from $18.7 billion in 2010, IBISWorld reported, adding that the trend is for the revenue to drop by 1.4 percent each year over the next five years.
Meanwhile, Amazon continues to dominate the market for books and e-books. IBISWorld reported that the company was responsible for the sale of 41 percent of new books and 67 percent of e-books in 2014.
Independent bookstores, however, are expected to "thrive" over the next five years, IBISWorld reported, thanks to customer loyalty and lower overhead costs, among other reasons.
In January 2014, the Pew Research Center found that nearly a quarter of American adults had not read a single book, or e-book, in the past year. That total was about three times more than the number of US adults who did not read a book in 1978.
On a more positive note for book lovers, in 2013, the National Endowment for the Arts found that 52 percent of adults between the age of 18 and 24 had read a book outside of work or school, the same percentage reported in 2002.
Despite the surging popularity of e-books, a January 2014 survey by the Princeton Survey Research Associates International found that 70 percent of Americans read print books in 2013, as opposed to four percent that read only e-books. The average American adult read five books in 2013, the report said.
As for young adults, a November 2013 survey by Voxburner of 1,420 people aged between 16 and 24 found that 62 percent preferred physical books to digital content.
A July 2014 survey of 527 students at San Jose State University found that 57 percent preferred print textbooks over e-books. Twenty-one percent preferred to use both formats, while another 21 percent were loyal to digital textbooks.