Obama considers moving US forces deeper into Syria, Iraq – reports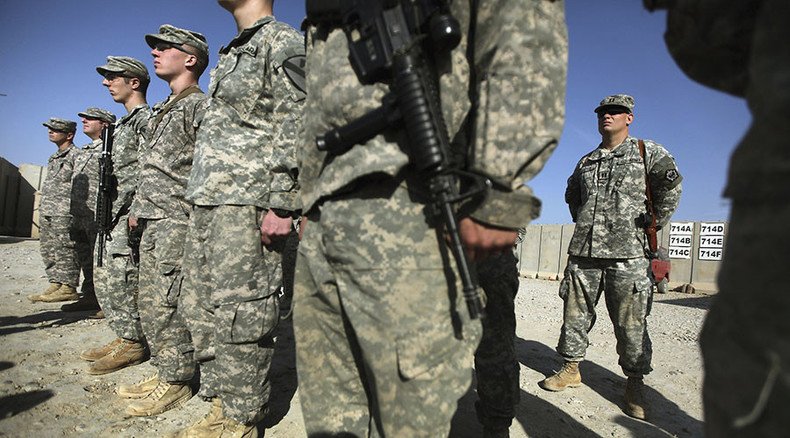 With US policy towards ISIS in the doldrums, President Barack Obama is reportedly considering several new strategies to target the terrorist group in Iraq and Syria.
The strategies emerged after discussions which took place over the past few weeks between military field commanders and the president's most senior national security advisers, including Department of Defense Secretary Ashton Carter and Secretary of State John Kerry. The recommendations could alter the military's involvement against the Islamic State (IS, also known as ISIS/ISIL), according to officials who spoke to the Washington Post.
One recommendation would be to move a limited number of Special Operations forces on the ground in Syria and put US advisers closer to the firefights in Iraq. The number of additional troops would be required is unclear, but the officials told the Post the number would be relatively small.
The Pentagon has already sent small Special Operations teams to Syria several times since the war began in 2011. The new proposals would be for Special Operations to work with moderate Syrian Arab rebels and possibly some Kurdish groups, which have recently scored some victories against IS.
If that happens, it would represent a significant escalation of the American role in Iraq and Syria, the Post reported. Officials said the president could make a decision as soon as this week, but that he could also decide not to alter the current course.
Other proposals include embedding US troops with Iraqi security forces and giving them ability to call airstrikes. Two officials told The Hill that US troops are currently embedded with Iraqis at the division level, which keeps them stationed at base headquarters.
Another option would embed US forces with Iraqis closer to the battlefield, at the level of brigade or a battalion, for specific operations to retake Ramadi, a western Iraqi city that IS forces captured this past spring.
Yet another proposal reported by The Hill would be to send more ammunition and weapons to a coalition of rebel groups battling IS and the government of Syrian President Bashar Assad.
VIDEO: How US Special Forces & Kurds rescued hostages from ISIS in Iraq
Also under consideration is the increased targeting of IS' production and sale of oil on the black market. The US-led military coalition has struck oil refineries controlled by IS, but officials are looking at using different kinds of weapons to target the facilities.
Additional ambitious and costly measures that did not receive the top policy advisers' support were no-fly zones or buffer zones, which would require tens of thousands of ground troops to protect civilians. Senior policy officials warned that such a measure had the potential to put the US in direct conflict with the Syrian regime and Russia, which has moved to bolster Assad.
The White House declined to comment to news outlets on the options being considered by Obama.
No mission creep: US troops put 'sneakers not boots' on the ground in Iraq
If true, the deliberations come as the White House deals with the fallout of a failed effort to find and train moderate rebels. Obama told CBS' 60 Minutes on October 11, that he had doubts about the failed $500 million program to set up a "proxy army" in Syria.
"I've been skeptical from the get-go about the notion that we were going to effectively create this proxy army inside of Syria," Obama said in the interview. "My goal has been to try to test the proposition, can we be able to train and equip a moderate opposition that's willing to fight ISIL?"
READ MORE: World would be a better place with Saddam, Gaddafi still in power – Trump
Recent revelations show that after spending millions of dollars, the military only had "four or five" fighters to show for their effort. The White House said it was dropping the training program because it had not lived up to expectations, but nevertheless said it would continue providing weapons to moderate Syrian militants.
In that interview, Obama also ruled out sending US troops to Syria. He said it would take a "community of nations" to eventually defeat Islamic State, and dismissed the Russian air campaign as nothing more than a desperate effort to save al-Assad.
Combat report: Russia fighter jets hit 285 terror targets in Syria in past 3 days
Since September 30, Russian aircraft have struck hundreds of terrorist targets inside Syria, from artillery positions to command centers and ammunition depots.Thousands of militants have deserted and fled the country, according to the Russian Defense Ministry.
LISTEN MORE:
The discussions come on the back of the Obama administration's decision to keep 9,800 troops in Afghanistan through most of 2016, citing fragile security in the country as the Taliban seized the city of Kunduz for two weeks. The change in policy casts aside Obama's pledge to withdraw most US forces from Afghanistan before leaving office.
You can share this story on social media: