VIDEO: How US Special Forces & Kurds rescued hostages from ISIS in Iraq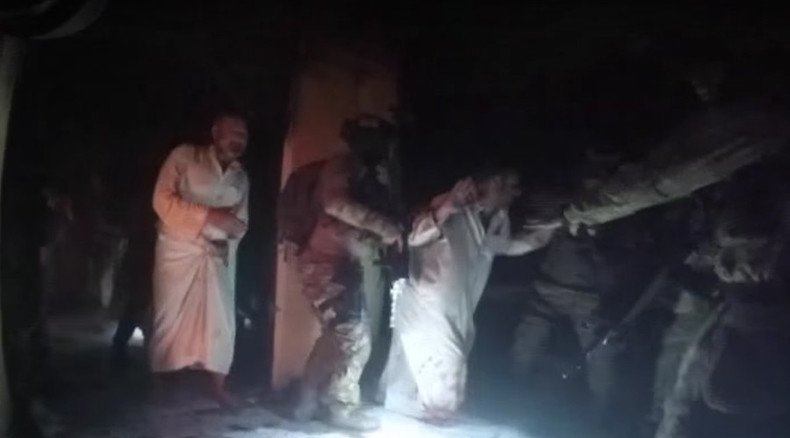 An exclusive video showing the rescue of hostages from an Islamic State prison during a recent operation conducted by Kurdish Peshmerga fighters and US Special Forces in Iraq has been released by the Kurdistan Region Security Council (KRSC).
The video from a camera mounted on a soldier's helmet shows the Kurdish and US forces entering the prison and driving hostages out from the building. The hostages are shown running through a corridor with bullet marks on the walls.
Some hostages looked frightened and disoriented with their clothes covered in blood. The soldiers were hurrying them up by shouting 'make haste!' in Arabic.
KRSC also issued a statement presenting the details of the operation, which started at 02:00 on Thursday (23:00 GMT, on Wednesday) and lasted for two hours.
Forty-eight Peshmerga soldiers from the KRSC's Counter Terror Department (CTD) and 30 US soldiers took part in the operation with the Kurds leading the mission and US troops playing a supportive role.
However, the US forces had to intervene because of fierce fighting between the Peshmerga and Islamic State (IS, formerly ISIS/ISIL) militants that claimed life of one US soldier and left three Kurdish fighters wounded.
Twenty terrorists were also killed in the clash and six more were captured. A total of 69 hostages, people from the neighboring town of Hawija controlled by IS as well as members of the Iraqi security forces and IS militants accused of spying, were also rescued.
The KRSC also confirmed that the prisoners were going to face execution on the same day as the operation took place. The rescued prisoners said they had been told that it was the last day of their life, Kurdish Rudaw news reported, citing KRSC sources.
The KRSC called the Hawija operation the "single most significant joint rescue operation based out of Kurdistan region conducted deep into the ISIL territory."
The Pentagon press secretary Peter Cook said this mission was a single raid that did not indicate any change of the US strategy in fighting IS.
The Hawija operation has become the most meaningful US land assignment in Iraq since May, when another US mission resulted in the death of Abu Sayyaf, a senior IS leader responsible for the oil shipments from territories controlled by the terrorist organization.
You can share this story on social media: