Prominent GOP presidential candidate Carson likens abortion to slavery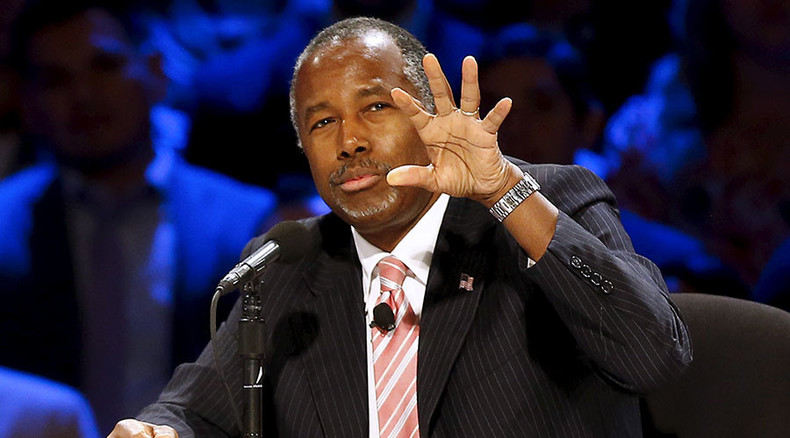 A woman who chooses to terminate a pregnancy through abortion is comparable to a slaveholder, according to Dr. Ben Carson, who in recent days has emerged as the frontrunner for the Republican presidential nomination in the key state of Iowa.
Carson, who has eclipsed Donald Trump in recent polls among Republican voters in the first primary state, told NBC's Meet the Press that he would love to see Roe v. Wade, the 1973 US Supreme Court decision that legalized abortion, overturned.
The former neurosurgeon invoked slavery to argue against a woman's right to terminate a pregnancy.
"Think about this. During slavery – and I know that's one of those words you're not supposed to say, but I'm saying it – during slavery, a lot of the slave owners thought that they had the right to do whatever they wanted to that slave. Anything that they chose to do," Carson said in the interview, which aired Sunday.
"And, you know, what if the abolitionist had said, you know, 'I don't believe in slavery. I think it's wrong. But you guys do whatever you want to do?' Where would we be?"
READ MORE: Carson under fire over comment on Nazi gun control and Holocaust
Carson argued that life began at conception, adding that the a "mother should not believe that the baby is her enemy and should not be looking to terminate the baby."
"We've allowed the purveyors of the division to make mothers think that that baby is their enemy and that they have a right to kill it," he said. "Can you see how perverted that line of thinking is?"
Carson also spoke out against abortions in cases of rape or incest.
"I would not be in favor of killing a baby because the baby came about in that way," he said. "All you have to do is go and look up the many stories of people who have led very useful lives who were the result of rape or incest."
During a Fox News appearance in August, Carson said that women impregnated through rape or incest ought to have access to emergency contraception.
Calling himself a reasonable person, Carson added, "if people can come up with a reasonable explanation of why they would like to kill a baby, I'll listen."
He characterized instances in which pregnancy jeopardized the life and health of a woman as "an extraordinarily rare situation."
"But if in that very rare situation it occurred, I believe there's room to discuss"the possibility of allowing an abortion procedure, he said.
READ MORE: Muslim can't be elected US president, says GOP candidate Carson
Never far from the surface of American political debate, abortion rights have received a new round of scrutiny nationwide, with much of it aimed at sexual and reproductive health non-profit Planned Parenthood. The concern stems from undercover videos released in July that allegedly depict Planned Parenthood officials discussing the use of fetal tissue for research that was acquired through abortion procedures.
Pro-life activists claim the videos prove Planned Parenthood has illegally profited from the sale of fetal tissue. States such as Texas, Louisiana, and Ohio are attempting to cut off public funding of the organization, which provides services – such as contraception, cancer and STD screenings, pregnancy tests, and abortion procedures – to millions of American women and men.
Independent research firm Fusion GPS, which reportedly has some ties to the Democratic Party, has said the videos, released by a non-profit called the Center for Medical Progress, "lack credibility as journalistic products" and "have no evidentiary value in a legal context."
An author of the Fusion GPS report said: "A thorough review of these videos in consultation with qualified experts found that they do not present a complete or accurate record of the events they purport to depict."
READ MORE: Obamacare takes another hit as federal court rules against birth control mandate
Planned Parenthood has insisted it follows all state and federal laws pertaining to the use of such fetal tissue. Federal and state investigations have yet to yield evidence that the organization has misused any fetal tissue. For instance, in September, Missouri Attorney General Chris Koster said his office determined that a Planned Parenthood facility in St. Louis, the only clinic that is licensed to provide surgical abortions in the state, handled fetal tissue properly based on Missouri law.
Meanwhile, in defiance of a temporary restraining order, the edited videos were recently released in their entirety thanks to blogger Charles C. Johnson and hacker Andrew "Weev" Auernheimer.