Muslim can't be elected US president, says GOP candidate Carson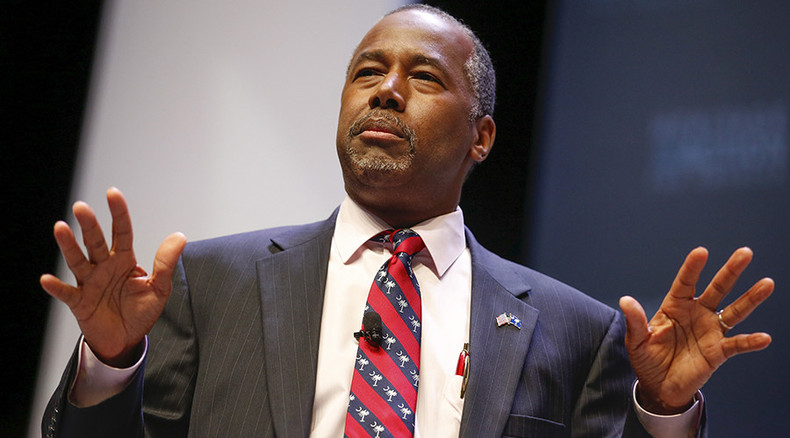 Republican presidential candidate Ben Carson has triggered a massive public backlash by openly declaring that he would not endorse a Muslim as President of the United States, as he claims that Islam is not compatible with the US constitution.
Speaking to NBC News' 'Meet the Press' Carson said that he would "not advocate that we put a Muslim in charge of this nation. I absolutely would not agree with that."
The reason for the retired brain surgeon's views, he claims is the fact that some faiths are not aligned with the US constitution.
"I guess it depends on what that faith is. If it's inconsistent with the values and principles of America, then of course it should matter. But if it fits within the realm of America and consistent with the constitution, no problem," Carson said.
The comments sparked an outrage among the Muslim community in the United States with the country's largest Muslim civil rights group condemning the politician's reasoning.
"It's beyond the pale and he should withdraw," said Council on American-Islamic Relations (CAIR) spokesman Ibrahim Hooper.
"This disqualifies him from being a president,"CAIR director Nihad Awad said. "My advice to GOP presidential candidates: Read the US constitution if you haven't yet! It keeps America great."
Politicians meanwhile spoke out against any infringement on rights and freedoms.
"Every American should be disturbed that these national figures are engaging in and tolerating blatant acts of religious bigotry," the first Muslim elected to Congress, Representative Keith Ellison said. "It's unimaginable that the leading GOP presidential candidates are resorting to fear mongering to benefit their campaigns."
Democratic presidential hopeful, Senator Bernie Sander said he was "disappointed" in Carson. "It took us too long to overcome the prejudice against electing a Catholic or an African-American president. People should be elected to office based on their ideas, not their religion or the color of their skin," Sanders said.
Democratic Representative, Debbie Wasserman Schultz meanwhile called for an apology from Carson.
"Of course a Muslim, or any other American citizen, can run for president, end of story. To think otherwise is not only harmful to our political process, but it elevates and validates discrimination in this country," she said.
Even Republican Senator Lindsey Graham, another presidential candidate, spoke out against Carson's comments, also calling for an apology.
"I think Dr. Carson needs to apologize," Graham said, adding the comments were particularly offensive to American soldiers who are Muslim.
In response to criticism, Carson's campaign office said that they support religious freedom, and tried to explain that Carson just "believes that the American people are far from ready to accept a Muslim as President in our Judeo-Christian society."
"Without question, there are complex differences between the practice of the Muslim faith and our Constitution, differences that are very real and very much in conflict with one another," spokesman Doug Watts said.
Watts stressed that Carson did not say that a Muslim should be prevented from running in the Presidential race, adding that Carson has "great respect" for the Muslim community.
According to the latest national CNN/ORC poll, Donald Trump is the Republican party's front-runner with 24 percent support. Carly Fiorina ranks second with 15 percent support just ahead of Ben Carson, who has one percentage point less.
Odd statements about the divisive issues of faith and race have been making headlines among Republican Presidential hopefuls.
Donald Trump let pass unchallenged anti-Muslim comments made by a supporter asserting that US President Barack Obama was a Muslim. Trump later said he was not "morally obligated" to defend Obama against the man's unfounded claim.
You can share this story on social media: