Obamacare takes another hit as federal court rules against birth control mandate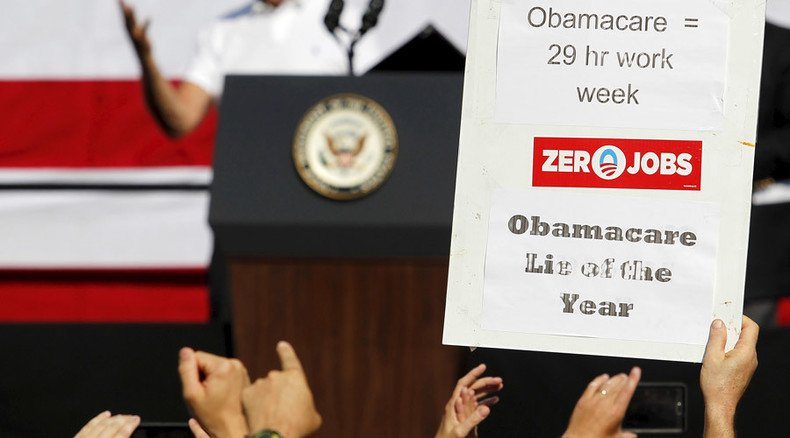 A federal appeals court has ruled that the Affordable Care Act violates the rights of religiously affiliated employers by forcing them to provide contraceptive coverage, despite a government subsidy that pays for the treatment.
The ruling, by the Eighth Circuit Court of Appeals in Missouri on Thursday, upholds two lower court rulings barring the government from enforcing the law's contraceptive provision against religiously affiliated employers.
Circuit Judge Roger Wollman who wrote the decision on behalf of a three-judge panel, said the court must defer to the employers' "sincere religious belief that their participation in the accommodation process makes them morally and spiritually complicit in providing abortifacient coverage," according to Reuters.
The Hill reported that the ruling included 30 references to Burwell v. Hobby Lobby, the 2014 Supreme Court case that allowed certain for-profit companies to opt out of the mandate. Since that decision, multiple nonprofits, including universities, have taken legal action demanding to be granted the same permissions.
The Affordable Care Act requires employers to provide insurance for their employees, including access to contraception, sterilization and other prevention services for women. The law allows religious non-profit employers to opt out of paying for contraception coverage directly through an exemption request. Once they do, insurers must provide the coverage separately at no cost to the employee.
Employers have argued that the opt-out process makes them complicit in providing contraceptive coverage. The court agreed and argued that the process posed a "substantial burden" on that organizations religious rights.
Four Christian nonprofits filed lawsuits before the Eighth Circuit objecting to emergency contraceptive, including Plan B, which they believe is equivalent to abortion.
A White House spokeswoman on Thursday said the administration is "disappointed" in the decision, but believes the mandate will ultimately be upheld, according to the Hill.
Conservatives were quick to praise the decision, which reignites a years-long battle against the Obamacare rule.
"This court ruling is a victory for the rights of freedom and liberty that were critical to our Founding Fathers and American exceptionalism to this day," Rep. Peter Roskam (R-Illinois) wrote in a statement Thursday.
The Associated Press reported that the "House has voted more than 50 times to repeal all, or parts, of the law known as Obamacare," only to be thwarted in the Senate.
The Supreme Court already has several cases involving the birth control mandate that it could take up in its fall term.
You can share this story on social media: