Texas threatens Planned Parenthood's funding through Medicaid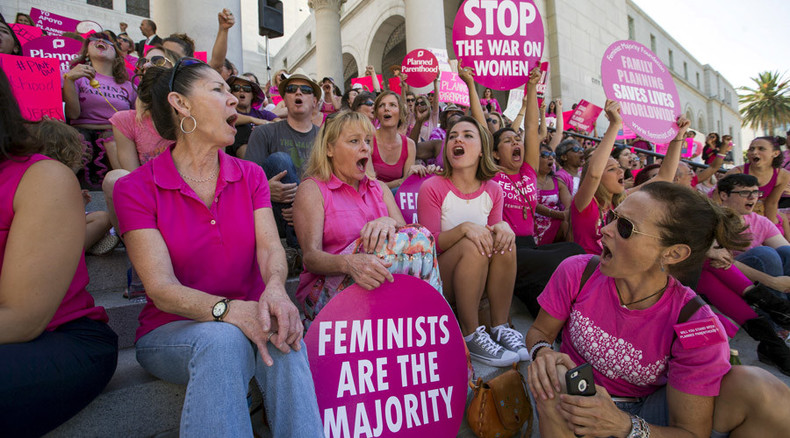 Texas health officials have threatened to terminate Planned Parenthood's funding through the state's Medicaid program. The decision comes in the wake of the emergence of a controversial undercover video allegedly showing the clinic's sale of fetal tissue.
"You are liable, directly or by affiliation, for a series of serious Medicaid program violations" and "are no longer capable of performing medical services in a professionally competent, safe, legal and ethical manner," wrote Stuart Bowen, inspector general of the Texas Health and Human Services Commission wrote in the "notice of termination" letter sent to Planned Parenthood on Monday, according to Houston Chronicle.
The letter accused the women's healthcare service of agreeing to procure fetal tissue "even if it means altering the timing or method of an abortion," and of having unsanitary conditions when handling fetal tissue and blood. Additionally, it cited a pattern of "illegal billing practices" for services that were "medically unnecessary or were never actually provided."
Planned Parenthood has 30 days to contest the termination notice.
If the termination holds, it would end contracts for Planned Parenthood affiliates for services such as contraception, breast and cervical cancer screenings, and testing and treatment for sexually transmitted diseases. Texas' Medicaid program does not provide reimbursement for abortion procedures.
Texas Governor Greg Abbott ordered the state health commission review after videos were released last summer allegedly showing that Planned Parenthood had sold fetal tissue for profit. He praised the decision in a statement, calling it "another step in providing greater access to safe healthcare for women while protecting our most vulnerable – the unborn."
"Texas completely ends taxpayer funding for Planned Parenthood. Harvesting baby parts will not be tolerated," he wrote on Twitter.
The videos at the center of the fight were released by the Center for Medical Progress, an anti-abortion group. They allegedly showed that Planned Parenthood workers had altered their abortion processes to preserve fetal tissue for donations to medical research. The makers of the videos also claimed that the footage proved that Planned Parenthood has been profiting from fetal tissue donations.
Planned Parenthood said that only 1 percent of its affiliates had accepted legal reimbursements of $45-60 per specimen. Last week, the group said it would stop accepting those fees and process fetal tissue that is procured for medical research for free.
In a response to the termination notice, Dawn Laguens, executive vice president of the Planned Parenthood Federation of America, said, "What's happening in Texas should be a national scandal. It is completely outrageous that Texas officials are using thoroughly discredited, fraudulent videos to cut women off from preventative health care including cancer screenings, HIV testing, and birth control."
"This smear campaign has been completely discredited because the claims are completely false… We will fight back against the outrageous, malicious, political attack in Texas with everything we've got, and will protect women's access to the health care they need and deserve."
The politicized state decision, however, runs afoul of federal law, which prohibits states from interfering with Medicaid beneficiaries' access to the qualified provider of their choice, and "[s]tates are not…permitted to exclude providers from the program solely on the basis of the range of medical services they provide."
Planned Parenthood has filed lawsuits against similar moves in Indiana, Arizona, Arkansas and Alabama.
The Texas notice was issued just hours after a Louisiana federal court temporarily blocked a similar action. On Monday, a Louisiana federal district court judge agreed to continue Planned Parenthood's funding while the case proceeds.
"Uncontradicted evidence in the record at this time is that PPGC does not perform abortions in Louisiana, is not involved in the sale of fetal tissue and none of the conduct in question occurred at the PPGC's two Louisiana facilities," Louisiana federal judge John deGravelles wrote in his order, according to AP.
Texas Planned Parenthood said years of hostile policies have already left tens of thousands of Texas women without access to cancer screenings, birth control, HIV tests, and other preventative care. An American Journal of Public Health study found that the state's family program served 54 percent fewer patients as a result of 2011 budget cuts and a tiered funding scheme.
In January, the State of Texas Health and Human Services Commission issued a grim report revealing that 30,000 fewer women had received health care through the Texas Women's Health Program in 2013 than in 2011. The Dallas Morning News reported that "the areas with the highest drops in the number of women served by the WHP occurred in areas where Planned Parenthood clinics shuttered."
Planned Parenthood is the nation's leading provider and advocate of high-quality, affordable health care for women, men, and young people, as well as the nation's largest provider of sex education. It operates 700 health centers across the country.