Infections most common reason for falls, especially among elderly – study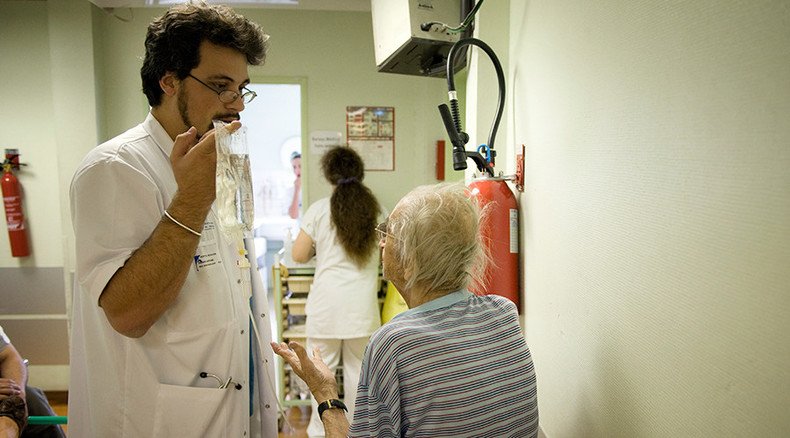 People who end up in an emergency room following a fall most likely lost their balance due to an infection, not poor eyesight or tripping hazards alone, according to new research.
Blood, urinary, and respiratory infections are the most common reasons someone, especially an elderly person, falls, according to a new study released by the Massachusetts General Hospital in Boston. Many falls that put someone in an emergency room are blamed on a loose rug or bad vision, the researchers said.
"Over the years I've been struck by the fact that some of the more serious infections I treated were in people who came to the hospital because they fell," said Farrin A. Manian, MD, lead investigator of the study and a clinician educator in the Division of General Medicine at Massachusetts General Hospital. "Even though many of the patients had vague early signs of an infection, such as weakness, or lethargy, it was the fall that brought them in."
READ MORE: Alzheimer's disease might be transmitted by blood transfusions, surgery, hormone treatment – study

The researchers found that infections also cause younger people to take falls that lead them to a hospital: 20 percent of 161 patients involved in the study were under the age of 65. All patients had fallen, ended up in an emergency room, and then were diagnosed with a "coexisting infection."

"Of those, 71 (44.1 percent) had a urinary tract infection, 64 (39.8 percent) had a bloodstream infection, 37 (23.0 percent) had a respiratory infection and 9 (5.6 percent) had an infection of the heart valve," according to a press release on the study.

More than 40 percent of patients were not suspected of having a coexisting infection because the majority had one or none of common indicators of such a condition, including fever or rapid heart rate.
READ MORE: CEO who jacked up price of AIDS pill to $750 faces major backlash

As many as 45 percent of such falls are ultimately caused by infection, according to past research cited by the study. Infections can trigger low blood pressure, which can lead to dizziness and disorientation, or also sow confusion among those with dementia, the researchers said.

"Ultimately, we hope that the public can also become more attentive to subtle signs of infections in some patients, the elderly in particular, so that perhaps these infections can be diagnosed and treated before the fall actually occurs," Manian told The Washington Post.

The study was presented Friday at IDWeek, an annual meeting concerning infectious diseases.
About 2.5 million elderly persons end up in American emergency rooms each year as a result of falls, according to the US Centers for Disease Control and Prevention, with less than a third of them requiring hospitalization. The death rate of these falls has increased, from 41 deaths per year for every 100,000 falls to 57 deaths between 2004 and 2013.
You can share this story on social media: