Mom outraged over dark-skinned Playmobil figurine wearing 'slave collar'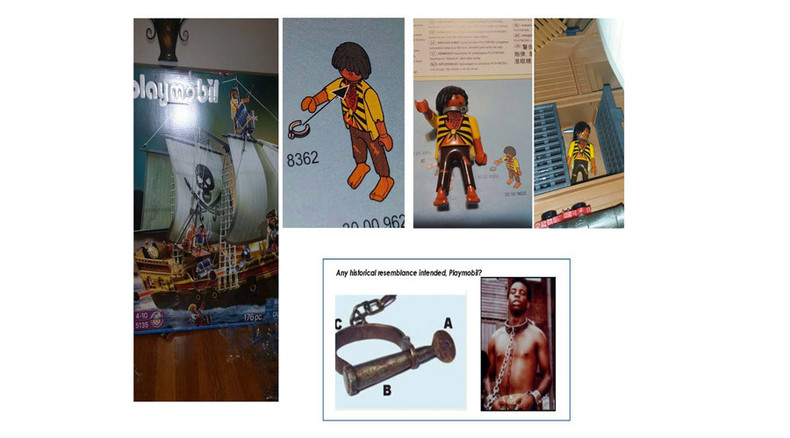 A Playmobil pirate ship has drawn the ire of a California mom, who says that the toy came with racist instructions for a figurine that resembles a slave.
Iba Lockett of Sacramento, California said that her son's aunt gave him a toy pirate ship for his fifth birthday. When she was helping her excited boy assemble it, she noticed something that she didn't find very fun: a dark-skinned, barefooted character in tattered clothes.

"This right here was found around his neck," she told KOVR, showing them a silver shackle piece that the instructions said to put around the figure's neck.
READ MORE: We find your lack of faith disturbing: Lego to shelve 'anti-Islamic' Jabba's Palace
"It's definitely racist," she said "It told my son to put a slave cuff around the black character's neck, and then to play with the toy."

But Playmobil denied these accusations, and said in a statement to the Washington Post that the toy was simply supposed to portray life on a 17th-century pirate ship.
"If you look at the box, you can see that the pirate figure is clearly a crew member on the pirate ship and not a captive," the statement said. "The figure was meant to represent a pirate who was a former slave in a historical context. It was not our intention to offend anyone in anyway."
The boy's aunt, Aimee Norman, who bought the pirate ship, said on Playmobil's Facebook page that she was "mortified" upon discovering the instructions for the figurine.
READ MORE: Merkel presses Zuckerberg to monitor racist posts on Facebook
"I suppose it's optional as to whether a kid chooses to then place said character into chains or into a prison cell at the bottom of the ship," she said.
"When I was browsing your play sets for purchase, this was the only one that even had a black character and that's precisely why I chose it for my nephew," the post continued. "I didn't notice from the box exterior that the black characters were to be depicted in this offensive way. Who would think in the year 2015?"

"WOW. Would it be too much to ask for you to just create a regular old black pirate?"
Sacramento NAACP President Stephen Webb has similar feelings, and says that his organization is demanding action.

"This is deplorable; this cannot be accepted, and it needs to be pulled off the shelf," he told KOVR.
But this view is not shared by everyone, and some think that the outrage is a storm in a teapot.
"This set has been around a LONG time. My 15 year old son received it as a 5 year old," Facebook user Wendy Floyd wrote in a response to Norman's post. "Toss out the neck 'ring' or whatever it is and move on. Pirates took prisoners. It's a historical fact. Make the guy a pirate if you don't want him to be a prisoner."