Merkel presses Zuckerberg to monitor racist posts on Facebook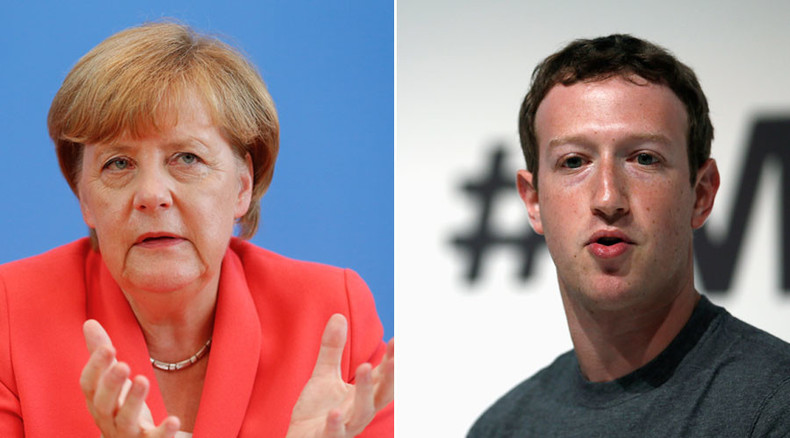 German Chancellor Angela Merkel said she wants more action from Facebook when it comes to filtering hateful racial posts. The comments were overheard by media as Merkel was speaking to CEO Mark Zuckerberg on the sidelines of the UN summit.
Merkel's request could be heard on a live transmission broadcast seconds before the introductory remarks at a luncheon in New York on Saturday.
READ MORE: Facebook is finally adding a 'dislike' button
The German leader asked Zuckerberg about hate speech posts, with the Facebook CEO responding: "We need to do some work."
Merkel followed up: "Are you working on this?" Zuckerberg was heard replying: "Yeah."
The transmission was then cut off as the luncheon began.
This is not the first time Merkel has called on Facebook to curtail hate speech comments on the social network.
"When people stir up sedition on social networks using their real name, it's not only the state that has to act, but also Facebook as a company should do something against these [people]," Merkel told regional newspaper Rheinische Post earlier in September.
The German leader added that the social media company has the tools to track hate speech, but is lacking in enforcement. "The rules need to be implemented," Merkel said.
READ MORE: Ukrainians' FB posts deleted because of hate speech, not 'Russian trolls' - Zuckerberg
The increased attention towards online hate is believed to have been triggered by an influx of refugees traveling to Germany, with around 1 million migrants expected to come to the country this year. The rise in immigrants and refugees from war zones has divided the population, with massive pro- and anti-refugee rallies hitting the country amid intensifying hate rhetoric.
Following criticism, Facebook committed to improve its efforts to fight racism online. On September 14, the company announced its cooperation with German Internet watchdog, Voluntary Self-Monitoring of Multimedia Service Providers, to keep an eye on hate speech posts.
Zuckerberg: Internet could pull '160mn people' out of poverty
During Saturday's 70th annual UN General Assembly session, Zuckerberg spoke about improving access to the internet as "an enabler of human rights" and a "force for peace." He announced that Facebook will be working to help the UN build internet connections at refugee camps.
READ MORE: 'Don't like': Facebook down for 50 mins, triggers mock despair
"Connecting the world is one of the fundamental challenges of our generation," Zuckerberg said. "More than 4 billion people don't have a voice online."
The head of the largest global social network said that online access could help employ millions of people. In his speech he claimed that as many as "160 million people" in developing countries could be pulled out of poverty if they get connected to the internet.
You can share this story on social media: