'90s rappers post video of cop-stalking as stunt to make comeback, get arrested instead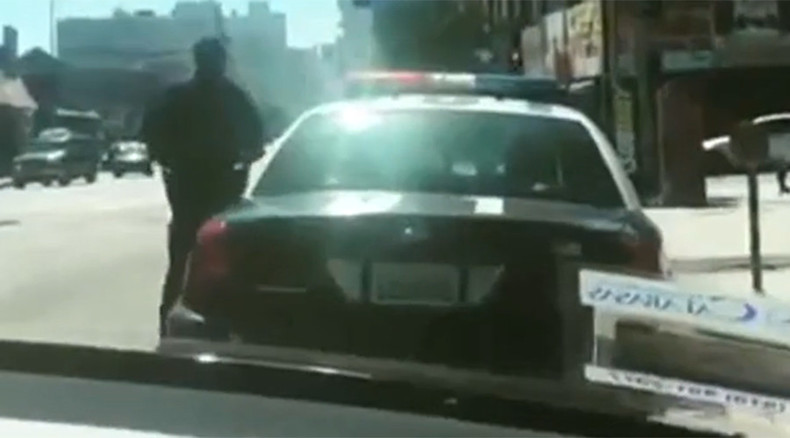 A rap group from the 1990s posted a short video of a man brandishing a handgun while recording a police officer exiting his patrol car. The post raised concern among police, but turned out to be a stunt.
The 15-second clip was filmed and uploaded to Instagram by Brownside, a small-time Los Angeles, California-based rap group that had moderate success in the mid-90s. It was recorded by someone inside a car, who uncovers a revolver from a sweatshirt or blanket and shows it to the camera before filming a police officer getting out of his squad car.
"Fucc [sic] the police," the group wrote with the posted video, which was quickly deleted, according to Police One.
Los Angeles police arrested one of the men involved with making the video and are searching for another. Authorities believe that the video was the obscure rap group's attempt at a comeback, not an actual threat against police, the Los Angeles Times reported.
READ MORE: Rapper may face 25 years in prison over 'gangsta rap' album
"We don't see a specific threat against any police officer," said LAPD Chief Charlie Beck on Tuesday, according to the LA Times. "We believe, based on interviews, that the video was made not as a precursor to an attack on a police officer, but in a manner to support the credibility of the person in the video for a rap career."
The LAPD referred the group in a press release as "an early 1990s rap group no longer in fashion" trying to "ignite a comeback."
This comes at a time when there is a significant amount of tension between the public and police departments. The LAPD has particularly faced a great deal of scrutiny and distrust over its actions, most recently when a mentally ill homeless man was killed by officers.
READ MORE: Protests over LAPD fatally shooting mentally ill homeless man
One of the members of the group, Toker, told TMZ that the gun is one of many used in the video was a prop used in the new music video "Till the Casket Drops."
Brownside was signed to the label Ruthless Records for just a year before legendary rapper Eazy-E died in 1995. The group was then dropped from the label, causing them to fade from the public consciousness.