Rapper may face 25 years in prison over 'gangsta rap' album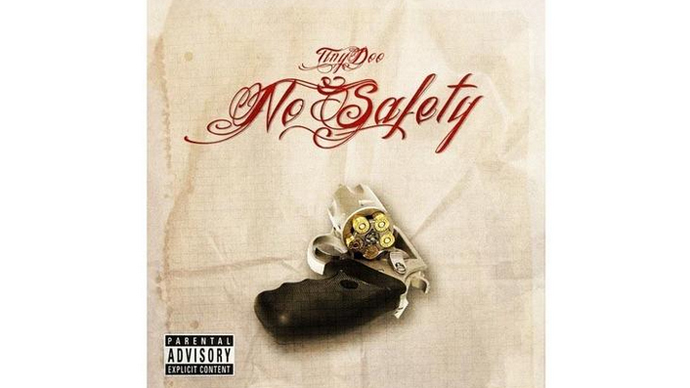 Brandon Duncan has no criminal record, but could face a life sentence of 25 years in prison as prosecutors say his latest album lent artistic motivation for a recent string of gang-related shootings.
San Diego County prosecutors have charged Duncan, 33, with nine felonies connected to a wave of gang-related shootings in the California city. Although the musician has not been charged with discharging or providing firearms in the recent shootings, prosecutors say his musical lyrics encourage gang behavior.
READ MORE:German rapper is ISIS propaganda mastermind recruiting British jihadists
Duncan's latest album, entitled "No Safety," features a photograph of a revolver with bullets on the cover.

The gangsta rapper, who is being held on $1 million bail, is scheduled to head to court in December. If found guilty of felony charges, Duncan could serve a life sentence of 25 years in prison, his lawyer said.
San Diego police say Duncan is a gang member, who goes by the name TD.
Brandon Duncan has no criminal record & is not a suspect in any murders. Yet #TinyDoo, is facing life in prison for the lyrics on his album

— ashley (@LitLamp) November 21, 2014
In 2000, California, faced with an increase in gang-related violence, passed Proposition 21, which takes aim at individuals "who actively participates in any criminal street gang with knowledge that its members engage in or have engaged in a pattern of criminal gang activity."

Prosecutors, citing a section of the law, argued that Duncan, through his music and gang affiliations "willfully promotes, furthers, or assists in any felonious criminal conduct by members of that gang."

"We're not just talking about a CD of anything, of love songs. We're talking about a CD (cover)… There is a revolver with bullets," said Deputy District Attorney Anthony Campagna, as quoted by the Los Angeles Times.
I really hope this wakes ppl up about san diego police #TinyDoo#1stAmendment#HipHop#SanDiego#SDPD#FreeEmAll

— 2TooMucH (@TooMucH_619) November 21, 2014
Duncan's lawyer, Brian Watkins, disputes the claim, saying the prosecution's use of an obscure California law is "absolutely unconstitutional" and impedes his client's First Amendment right to the freedom of speech.

"It's no different than Snoop Dogg or Tupac," Watkins, naming other rappers known for their controversial lyrics, said. "It's telling the story of street life."

"If we are trying to criminalize artistic expression, what's next, Brian De Palma and Al Pacino?" said Watkins, in reference to the 1983 movie "Scarface" directed by De Palma and starring Pacino.