Death in the air: American Airlines pilot dies mid-flight with 152 on board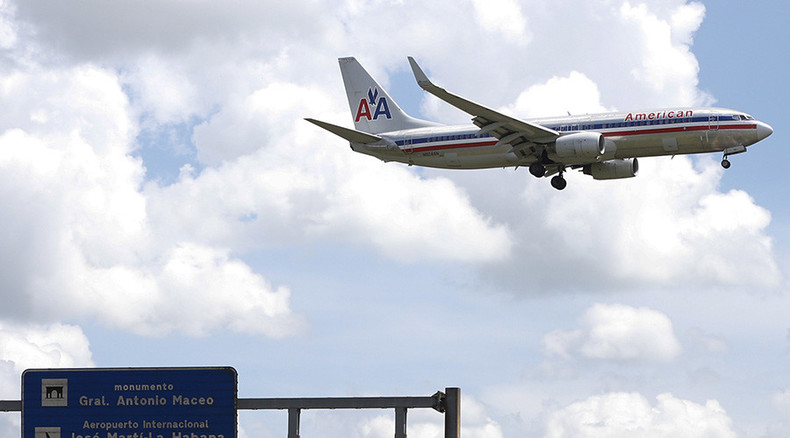 The captain of an American Airlines flight died while piloting his plane, which was carrying 147 passengers and 5 crew members from Phoenix to Boston, the airline has confirmed. The cause of death is still unknown, except that it was due to an "illness."
"Syracuse, American 550, medical emergency, captain is incapacitated, request handling for runway," the co-pilot is heard saying on an audio recording posted on savvystews.com, which provides only a glimpse into the dramatic events that transpired in the plane's cockpit on Monday.
The Airbus A320's first officer was recorded talking to the control tower in Syracuse, New York, where Flight 550 requested an emergency landing.
READ MORE: 'Pilot uneasy': Autistic child kicked off US flight with emergency landing
As the recording continues, the officer says he is concerned with how quickly the medics could get on board. The airport control tower directed him to a gate where medics were waiting.
An airline official was only able to reveal that the death was caused by an "illness" and occurred about four hours into the flight. Unconfirmed reports suggest that a flight attendant, who happened to be a former nurse, attempted to provide first aid to the captain but to no avail.
Passengers reportedly understood that something was going terribly wrong when a "quivering" female voice alerted them that the pilot was sick via the intercom, passenger Peter McSwiggin told WCVB.
Flight 550 then made a rapid descent, arriving in Syracuse at 7:13 am ET, according to American Airlines' website.
The co-pilot was forced to make the unplanned landing on his own.
The Guardian quoted another passenger named Louise Anderson as saying that she awoke to the announcement that there was going to be an emergency landing due to pilot illness. Anderson said rumors of the captain's death began circulating after landing, but an official announcement was made only on their makeup flight.
"Unfortunately, our pilot passed away. We are incredibly saddened by this event, and we are focused on caring for our pilot's family and colleagues," the outlet quoted an American Airlines spokesperson as saying.
READ MORE: 'Bang, flames, lights went out': Cathay Pacific jet diverted to Bali with one engine out
A spokeswoman for the airline, Andrea Huguely, confirmed that a replacement crew had been dispatched to Syracuse and the flight was able to arrive at its destination. According to standard procedure, pilots over 40 are required to go through two physicals each year.
The incident, while rare, was not unique: according to the Federal Aviation Administration, a total of eight pilots, including the unnamed 57-year-old American Airlines captain, have died during commercial flights since 1994.