'Bang, flames, lights went out': Cathay Pacific jet diverted to Bali with one engine out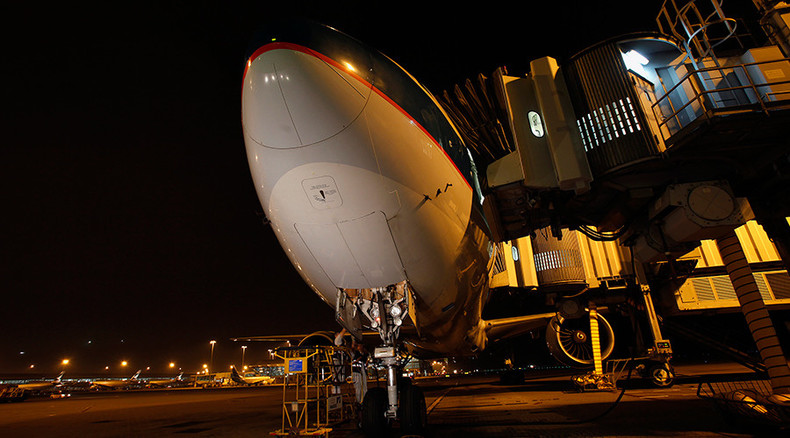 A Cathay Pacific flight en route from Australia to Hong Kong was diverted to Bali after one of the plane's engines reportedly caught fire and cut out. Witnesses described a loud bang, flames outside and power shutdown on board.
The Cathay Pacific flight CX170 was cruising at 36,000 feet when a "No.2 engine defect" was reported.
"There were flames and sparks flying out of the motor," passenger Joel Sirna told 6PR presenter Gary Adshead, as cited by the West Australian.
The CX170 departed from Perth, Australia, just before midnight local time and was scheduled to land in Hong Kong at 7:40am on Friday.
"Mid-flight, we heard a loud bang and the plane started to shake, all the lights went out and I looked to the window and have just seen some flames and some sparks – the wing and the motor was on fire," Sirna said.
The pilot announced that one of the engines had stopped working and then all the power in the cabin went off, Sirna told reporters.
"There were a few people that were pretty shaken. The girl next to me started freaking out and crying, so I just tried to calm everyone down. That's what we had to do," he said.
The captain made a decision to divert the plane to the nearest airport "for safety reasons." The plane, an Airbus A330, landed safely in Denpasar, Bali.
"There was no fire onboard, and no passengers or crew were injured," Cathay Pacific said in a statement.
Passengers said that they were kept onboard for nearly two hours after landing while the company was figuring out how to get them off.
@DaveDoran77There was no cabin fire. Our crew and passengers are resting in the hotel or taking other flights while we're investigating.

— Cathay Pacific (@cathaypacific) September 25, 2015
"We were stuck sitting there for about two hours until we could actually get off the plane. We couldn't see the flames any more so we were hoping it was all good," Sirna said.
The Australian Transport Safety Bureau said it had not been notified of the incident.