'Pilot uneasy': Autistic child kicked off US flight with emergency landing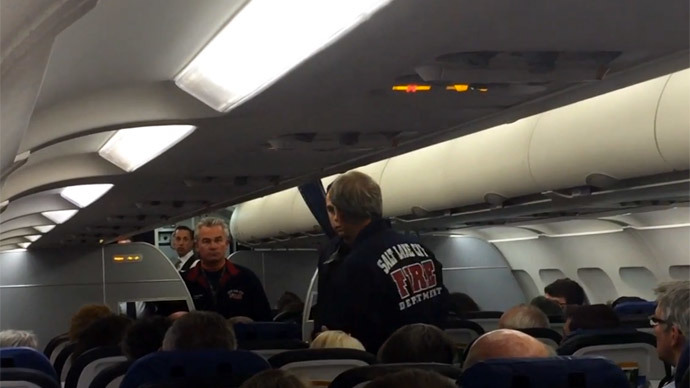 An American family flying with United Airlines from Houston to Portland were forced off the plane after an emergency landing because the pilot wasn't "comfortable" with an autistic child on board. The shocked family is filing a lawsuit.
READ MORE: Alaska Airlines plane forced to land in Seattle after screaming heard in cargo
The emergency stop was made in Salt Lake City, KOIN 6 News reported citing Donna Beegle, who was traveling with her autistic 15-year-old daughter Juliette Forbes.
The incident unfolded after Donna realized that her daughter had not eaten dinner yet. "She started getting a little upset and I started thinking, 'You know what? She didn't eat her dinner," the mother said. "I know her, when she gets over hungry or over thirsty, she really struggles because she can't tell us and she gets really frustrated."
Being "extremely picky," Juliette needed a hot dinner, leading Beegle to ask if she could purchase one from first-class.
At first she was refused. Even after explaining that her daughter had autism, the flight attendant said that an exception could not be made.
Beegle then went on to clarify that if her daughter did not get a hot meal, she would reach a "meltdown point" and could potentially scratch someone. Shortly after this, Juliette was brought a first-class meal.
What followed afterwards was a bizarre sequence of events, where the pilot made an announcement stating that the plane would be making an emergency landing because of a passenger "in the back of the plane who has behavior issues."
READ MORE: Plane forced to land after 80yo woman 'attacks, bites' crew
Juliette was calmly watching a video in her seat at the time.
Paramedics were the first to come on board, approaching the Beegle family to check if everyone was okay. "They could see Juliette was sitting there watching her show," Donna said.
Police arrived next and said the family had to leave the plane. Donna believes they were kicked off "because of the fear of autism."
A police officer on the scene added that the family was being escorting out because the pilot was not comfortable flying further with Juliette onboard.
Meanwhile, the majority of the passengers appeared to be appalled by the move and had no problem with Juliette's behavior, according to Donna.
READ MORE: 'Emotional support pig' can't fly US Airways, kicked off with owner
"I get the ignorance. But it has to change," she said, adding that her family will be filing a lawsuit. "It's not about the money, it's about the training" standards airlines fail to meet, she said.
A United Airlines spokeswoman Jennifer Dohm said that the airline had tried to accommodate the Beegle family, but in the end the decision to land had been made with the safety of the other passengers in mind.
"After working to accommodate Dr. Beegle and her daughter during the flight, the crew made the best decision for the safety and comfort of all of our customers and elected to divert to Salt Lake City after the situation became disruptive. We rebooked the customers on a different carrier and the flight continued to Portland," KOIN quoted Dohm as saying.
The family then traveled on from Salt Lake City to Portland on a Delta flight.