Alaska Airlines plane forced to land in Seattle after screaming heard in cargo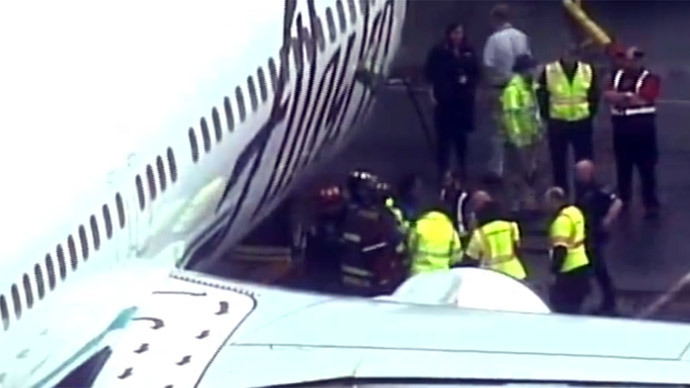 An Alaska Airlines flight had to return to SeaTac airport in Washington just minutes after taking off because screaming was reported from underneath the plane. A worker was stuck in the cargo area.
The flight bound for Los Angeles had just taken off Monday afternoon, when the pilot reported hearing banging from beneath the aircraft, Alaska Airlines said in a statement. The captain immediately returned to Seattle-Tacoma International Airport.
JUST IN (from scanners) worker was stuck in cargo pic.twitter.com/WbfepZUXOn

— Henry Rosoff (@HenryKIRO7) April 13, 2015
Not local, out of Seattle. Worker was inside the cargo hold as plane was taking off. ~JayPosted by Spokane News on Monday, 13 April 2015
The plane was in the air for 14 minutes.
Medics and rescue workers responded to the aircraft after it landed, discovering a ramp agent inside the front cargo hold, which is pressurized and temperature controlled, according to the airline.
"The ramp agent appeared okay, and was transported to the hospital as a precaution," Alaska Airlines said. "We are actively investigating the matter."
The employee was able to walk out of the cargo hold, SeaTac tweeted.