Extreme weather weekend: 9 killed in S. Carolina flooding, Bahamas slammed by Hurricane Joaquin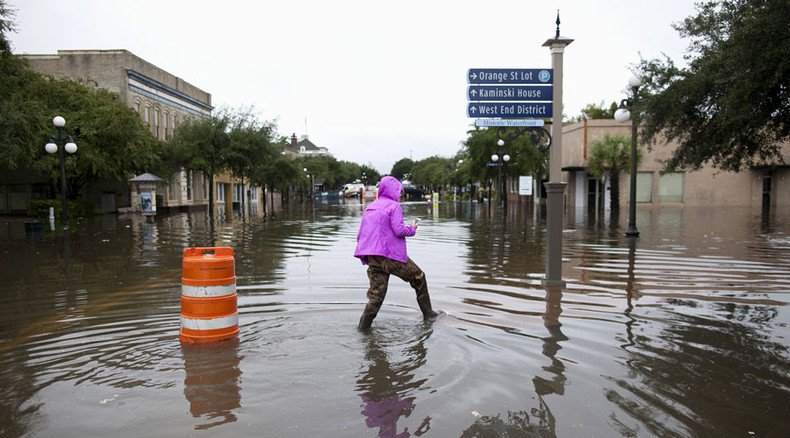 Nine people were killed in unprecedented flooding in South Carolina, Governor Nikki Haley said.
Flooding in South Carolina is so serious that President Obama declared a statewide emergency. The president also signed a disaster declaration Monday night, freeing up federal funds for eight Suuth Carolina counties.
The aid, which is available to state and local governments as well as affected individuals, includes grants for temporary housing and home repairs, as well as low-cost loans.
"We are at a 1,000-year level of rain," South Carolina Governor Haley said at a press conference. "That's how big this is."
READ MORE: School roof collapses in N. Carolina, 20 students injured by concrete rubble (VIDEO)
The rain in South Carolina, courtesy of Hurricane Joaquin, is so intense that it is statistically expected to happen only once every thousand years.
The state got over two feet of rain this weekend, and Sunday was their wettest day in recorded history. The old record was set on July 9, 1959.
"We've got enough supplies. We just want to be able to tell people where to get them and how to get them," Governor Haley said at a press conference on Monday.
Shewent on to say that schools and roads will be closed until they are verified to be safe.
"What you're going to see is when all the water goes away, there's going to be some serious damage to the roads."
Columbia Metropolitan Airport has so far seen 6.87 inches of rainfall, according to Mashable.
Eleven aircraft, eight swift water rescue teams and 600 National Guardsmen are part of search and rescue efforts, the governor said on Sunday. So far more than 200 water rescues have taken place, the state's emergency management agency said, according to CNN.
A grim reminder of this disaster's deadly effects also came in the form of coffins surfacing and floating through flooded graveyards.
Hurricane Joaquin also brought devastation to the central and southern islands of the Bahamas on Friday and Saturday before continuing to rage off eastwards.
A cargo ship, the El Faro, and its crew of 33 was reported missing near the Bahamas more than three days ago. The US Coast Guard reports that it sank during Hurricane Joaquin.
READ MORE: Debris found during hunt for cargo ship and its 33 US, Polish crew, lost in Hurricane Joaquin
Rescuers reported finding debris from the stricken vessel strewn across an area of 225 square miles, according to the Guardian.
Relief efforts are currently underway in the island nation.
You can share this story on social media: