Debris found during hunt for cargo ship and its 33 US, Polish crew, lost in Hurricane Joaquin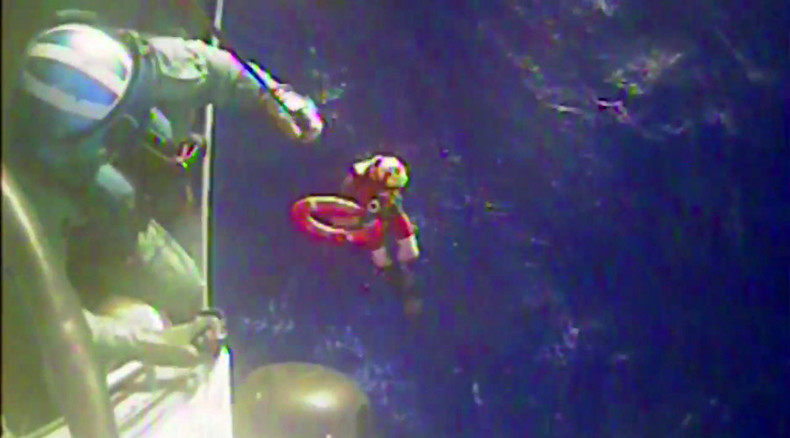 Debris, apparently belonging to the cargo ship El Faro which went missing in the eye of Hurricane Joaquin, has been found by US search and rescue teams on the third day of their operation. The fate of 33 crew members, mostly Americans, remains unknown.
Coast Guard aircrews, accompanied by the Air Force and Navy, found numerous objects in the water 75 miles northeast of the missing ship's last known position. The debris include "life jackets, life rings, containers and oil sheen," the US Coast Guard said in a news release on Sunday, adding that it was still not clear whether they belonged to El Faro.
READ MORE: 33 sailors missing in Hurricane Joaquin as US Coast Guard rescues 12 from another vessel (VIDEO)
El Faro, a 224-meter container ship, had 33 crew members aboard – 28 US citizens and five Polish nationals among them. It had been on the way from Jacksonville, Florida, to San Juan, Puerto Rico, when it sent a distress call on Thursday night saying it was sinking, some 51 nautical miles northwest of Haiti.
"Our thoughts and prayers remain with the 33 individuals aboard the ship and their families," Tim Nolan, the president of Puerto Rico's TOTE Maritime, said in a statement.
READ MORE: US East Coast plagued by rainfalls & gusty winds (PHOTOS, VIDEO)
Sunday's search combined the efforts two Hercules airplanes, a Jayhawk helicopter and a Coast Guard cutter, with two other cutters reportedly being on their way to the search area.
"The debris is scattered about over several miles," said Coast Guard Chief Petty Officer Ryan Doss, a spokesman in Miami, as cited by Reuters. "It's going to take some time to verify. The items would appear to be consistent with the missing ship."
According to the US Coast Guard, weather conditions in the search area improved on Sunday with one-foot seas, light wind and unrestricted visibility.
"There is unrestricted visibility and ideal search conditions right now," Doss said.
READ MORE: Joaquin upgraded to Cat 3 hurricane as East Coast braces for more flooding (VIDEO)
The winds and rain of Hurricane Joaquin, which is currently moving northeastward through the western Atlantic Ocean, calming gradually on its way, battered the Bahamas and the eastern coast of the US, with flash flood warnings issued and a state of emergency declared.