33 sailors missing in Hurricane Joaquin as US Coast Guard rescues 12 from another vessel (VIDEO)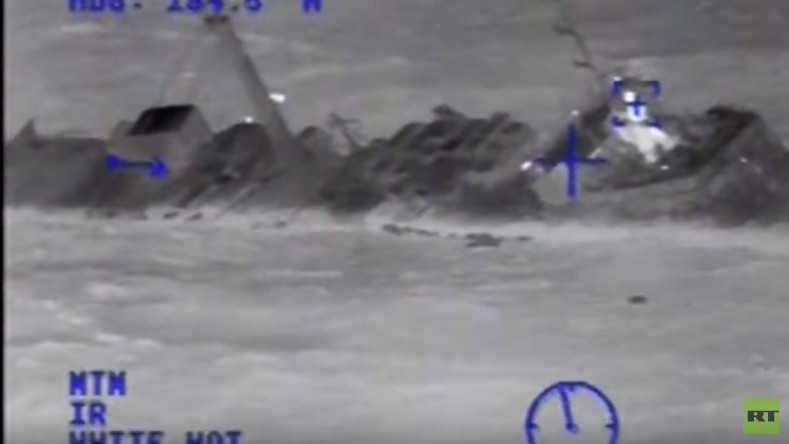 The US Coast Guard has released a dramatic video of 12 sailors being rescued from a sinking cargo vessel. In the meantime, an exhausting search for 28 American and five Polish seamen continues: The vessel was near the eye of hurricane Joaquin.
The Bolivian-flagged ship Minouche sent a distress signal when a 212-foot cargo ship started to sink in the Atlantic Ocean near Haiti. A cutter has been dispatched and a helicopter search launched to rescue the crew.
A Coast Guard MH-60 Jayhawk lifted the survivors out of the water at around 11:00pm. The crew was flown to Great Inagua. According to the Coast Guard, the ship sunk while carrying over $2 million worth of cargo.
In the meantime, an intensive search operation for 735-foot (224 m) El Faro with 33 crew members continues. There are 28 American and five Polish marines onboard.
Headed to San Juan, Puerto Rico, from Jacksonville, Florida, the ship reported loosing propulsion and taking in water.
"This vessel is disabled basically right near the eye of Hurricane Joaquin," said Capt. Mark Fedor, according to AP. "We're going to go and try and save lives. We're going to push it to the operational limits as far as we can."
The US Coast Guard rescuers have covered about 850 sq nm [sic] looking for the missing El Faro. A C-130 Hercules airplane and two Air Force Hurricane Hunter planes have been dispatched.
All contact with the vessel had been lost since Thursday morning, a spokesman for the owner of the ship, Tote Maritime Puerto Rico told Reuters.
The last time the Coast Guard heard from the ship was about 7:30am Thursday when it issued the emergency call.
At that time, the El Faro was reportedly caught Joaquin about 35 miles (56 km) north of Crooked Island, Reuters reported.
"The low cloud cover makes satellite communications difficult," Miami Coast Guard Chief Ryan Doss said, according to Reuters. "The storm is so bad and slow moving it's hard for our planes to get low enough to inspect the surface of the water."
Downgraded to category 3 on Friday, Joaquin has been battering the Bahamas for the past two days.
Six East Coast states have declared states of emergency as of Friday as potential torrential rain and severe flooding from Joaquinwere expected to hit the coast. The US National Hurricane Center reported that Joaquin was moving out into the Atlantic, with its weakening expected over the weekend.