US East Coast plagued by rainfalls & gusty winds (PHOTOS, VIDEO)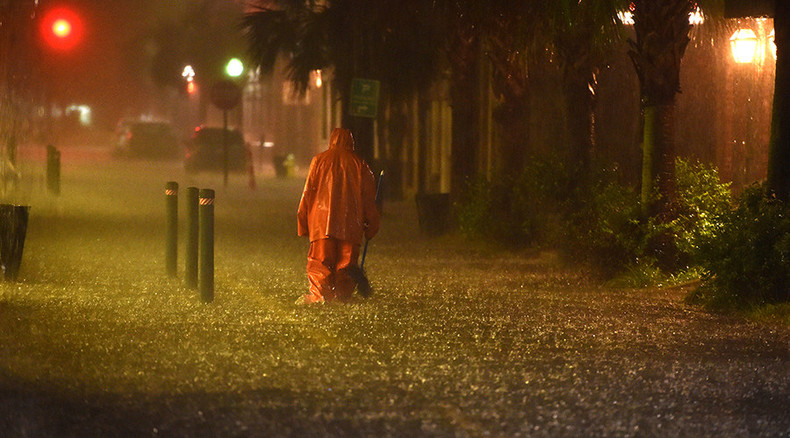 Life-threatening flooding from days of lashing rain along the East Coast has washed out bridges and swept away homes in the US. The weather service has issued a warning for residents living along the coast to be alert for rising water.
Forecasters have warned that gusty winds raging at 35mph could down trees and power lines across the Carolinas and Virginia.
A combination of high water and high waves could cause beach erosion, and damage to docks and piers.
At least five weather-related deaths have been reported since heavy rains began along the Eastern Seaboard. Powerful winds toppled a tree that hit a vehicle and killed a passenger on Thursday near Fayetteville, North Carolina. Three people died in separate weather-related traffic incidents in South Carolina on Friday and Saturday, according to the Highway Patrol. A drowning in Spartanburg, South Carolina, was also linked to the deadly storm.
Record-setting rainfalls, stretching from the Carolinas to New Jersey, have forced five governors to declare a state of emergency. Flood warnings remained in effect for many parts of the East Coast through Sunday.
Charleston was deluged with up to 11.5 inches of rain, the National Weather Service in Charleston South Carolina wrote on Twitter on Saturday, making it the wettest day in history of the city.
Heavy rain is expected to continue overnight in the Carolinas and parts of northern Georgia, with the National Weather Service saying it could cause some significant river and stream flooding.
With tree roots already loosened in waterlogged soil, turbulent winds could topple trees onto power lines or property.
The Greenville-Spartanburg Airport in South Carolina recorded 2.3 inches of rain on Saturday, breaking the previous record of 0.77 inches set back in 1961, John Tomko, National Weather Service meteorologist at Greenville-Spartanburg told AP.
"This one is extraordinary in that it's such a prolonged event," he said.
Downtown Charleston was closed off to incoming traffic on Saturday as rain flooded roads and left some motorists stranded, with flood waters engulfing their cars. At least two bridges were washed out in other parts of the state.
"Where we normally are dealing with flooding for a few hours, we're dealing with it for days here," Charleston Police Chief Greg Mullen told AP. "We're seeing areas flood today that did not traditionally flood."
Flooded roads were closed throughout the mid-Atlantic region and power companies reported scattered outages in several states.
In New Jersey, storms swept away an entire house in a low-lying area of Middle Township in southern Jersey. Luckily, no one was in.
Flood watches and warnings also are in effect in Delaware and parts of New Jersey, Maryland and Virginia.
In Ocean City, Maryland, spokeswoman Jessica Waters said moderate high tide flooding forced street closures in low-lying areas on Saturday.
Some enthusiasts chose to weather the wet weather, cavorting in kayaks and canoes in the flooded areas. Steven Capito was busy surfing by the Ocean View Fishing Pier in Norfolk, Virginia, where two- to three-foot waves crashed ashore, while normally waves from the Chesapeake Bay barely lap his ankles.
"It's kind of a fun novelty to be out here in the bay," Capito told AP. "You only get to do it a couple of times a year and it's nice and warm."
You can share this story on social media: