Army vet lunged at UCC shooter, survived 5 shots on son's 6th birthday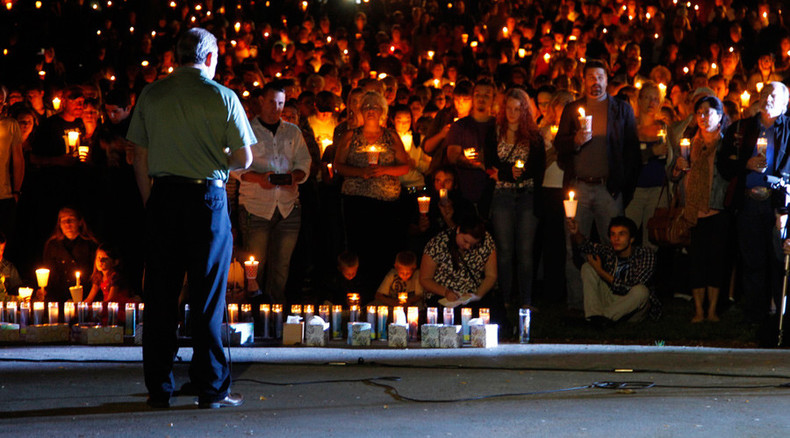 Umpqua Community College student and Army veteran Chris Mintz is receiving praise a day after lunging at a gunman on the school's campus amid a rampage that left nine dead. Mintz was shot several times, but is listed in stable condition.
On his fourth day of classes this semester at Umpqua Community College (UCC) in Roseburg, Oregon, Mintz reportedly attempted to halt the shooting rampage. The shooting took place on Mintz's son's sixth birthday.
Mintz, 30, was shot five times, according to a Facebook post by his cousin and fellow Army vet Derek Bourgeois. Mintz received bullet wounds to his upper back, left hand, abdomen, and both legs, his family told the Winston-Salem Journal. None of his vital organs were hit, though both legs were broken. He is expected to survive, but will have to relearn to walk, his family said.
LIVE UPDATES: #UCCShooting: Community mourns 9 killed in massacre

"It sounds like something he would do," Bourgeois told The Daily Beast of his cousin's courageous act.
Bourgeois added that he and Mintz both joined the Army after high school in North Carolina. Mintz was stationed at Fort Lewis outside of Tacoma, Washington, and was deployed overseas during his 10-year stint in the military. He moved to Oregon after leaving the armed forces, and worked at the local YMCA. He aspired to be a fitness trainer, according to reports.
On Thursday, Mintz announced his son's special day before heading to class. "Happy birthday, Tyrik," he wrote on Facebook. His aunt, Wanda Mintz, said Chris had spoken to his own father, who lives in North Carolina, as he was walking to class.

"My brother talked to Chris on the phone while Chris was walking into school to tell him to remind his grandson that grandpa said, 'Happy Birthday'," Mintz's aunt told My Fox 8.

His family told CBS This Morning that after he was shot, Mintz told the gunman "It's my son's birthday today," before being shot again.
"This is Chris's friend, Chris asked me to thank everyone for their support, he is grateful and keeping our community and all victims in his thoughts," a friend posted on Mintz's Facebook page.

First reports of the UCC shooting occurred at 10:38 a.m. PT. The shooter was later identified as Chris Harper Mercer, 26; however, local police refuse to name him, refusing to give the gunman publicity.
Mercer died in a shootout with police. He was armed with three handguns and a rifle, according to Yahoo News, which reported that the shooter was asking potential victims if they were Christian or not.
"If they said yes, then they were shot in the head. If they said no, or didn't answer, they were shot in the legs," tweeted Bodhi Looney, who says his grandmother witnessed the carnage but escaped physical injury.
Of the nine people wounded during Thursday's rampage, seven are still hospitalized, with two listed in critical condition and one in serious, Dr. Jason Gray, the Chief Medical Officer at Roseburg's Mercy Medical Center, told KATU.
Victims' names are expected to be released as early as Friday.