#UCCShooting: 13 weapons, some purchased legally, recovered at shooter's
Published time: 1 Oct, 2015 20:01
Edited time: 2 Oct, 2015 17:36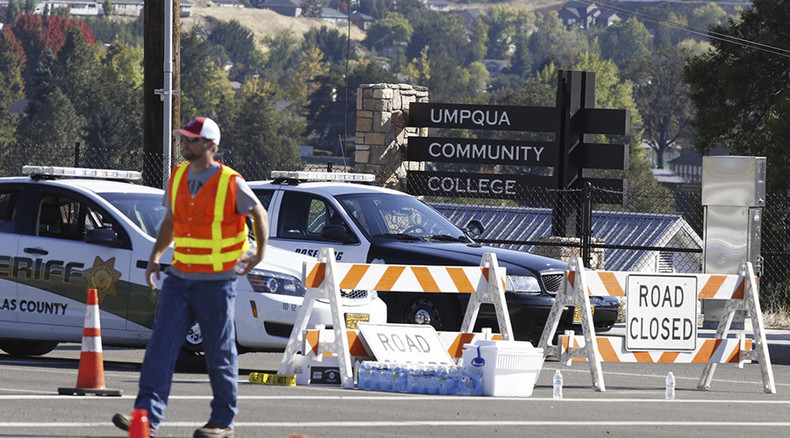 A gunman opened fire at a Umpqua Community College in Douglas County, Oregon, killing nine and injuring at least 20 on Thursday morning. The shooter was killed in a standoff with police.
03 October 2015

21:21 GMT

The father of Chris Harper-Mercer said his 26-year-old son had to have had "some kind of issue" with his mental health to have collected such a large arsenal of weapons before going on a shooting rampage.

"How on earth could he compile 13 guns?" Ian Mercer told CNN.

21:20 GMT

Harper-Mercer's family made a statement saying that they are deeply shocked and saddened by the slaughter of innocent people.

"We are shocked and deeply saddened by the horrific events that unfolded on Thursday October 1. Our thoughts, our hearts and our prayers go out to all of the families of those who died and were injured," they said, according to a brief statement released on the behalf of the family by Oregon state police.

21:19 GMT

Authorities have confirmed that the Oregon gunman died as a result of suicide during the standoff with police.


According to Douglas County Sheriff John Hanlin, the Oregon medical examiner determined that Christopher Harper-Mercer had killed himself.

02 October 2015

22:32 GMT

The Oregon medical examiner has identified the identity of the suspected gunman as Christopher Sean Harper-Mercer, a 26-year-old from Winchester, according to local KOIN News.

The outlet stated that the Harper-Mercer was enrolled at UCC in the class where the shooting occurred.

21:37 GMT

Classes are cancelled at Umpqua Community College for all of next week.

21:36 GMT

"I want to thank all of the people who showed up at the vigil who provided support for the families," Lance Colley, Roseburg City Manager said.

"What we're asking our community to do now is reflect on this, try to support the families, certainly support the college, support people they know affected by this."

"I particularly want you all to keep your family in your prayers," he said with his eyes filling with tears. "Please take an opportunity to recognize what a great community this is, and what a great response they made, thank you."

21:36 GMT

"I want to express my deep condolences for everyone affected," UCC Board of Trustees Chair Vanessa Becker said at the press conference.

21:35 GMT

Janet Holland, executive director of Community Health Alliance, said that he organization's mental health resources are available for anyone who needs assistance.

"I have been totally amazed by the outpouring of support from around the state," she said while visibly emotional.

"Turn off the media and take a break," she suggested. "It's important that we all take care of ourselves."

21:28 GMT

"I do want to make the clarification regarding the number of injured," Sheriff Hanlin said. "To repeat, we have nine injured, not seven, and the death toll remains at 10, which includes the shooter."