#UCCShooting: Gunman identified as 26yo man, IRA fan - reports
Published time: 1 Oct, 2015 23:54
Edited time: 2 Oct, 2015 03:39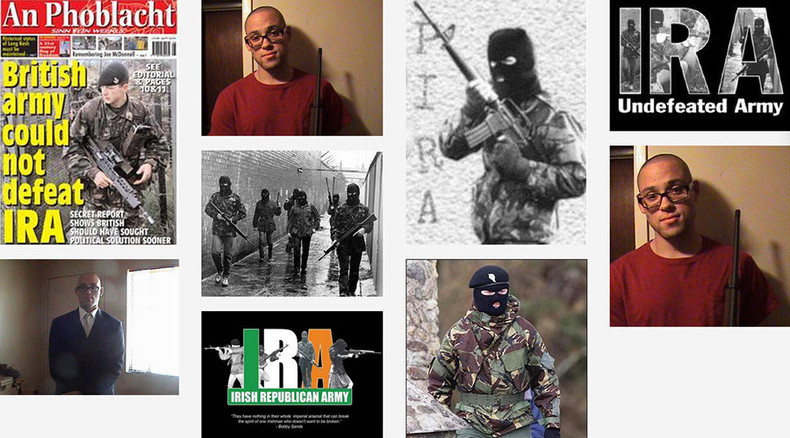 The suspected gunman in the mass shooting at Umpqua Community College in Douglas County, Oregon has reportedly been identified as 26-year-old Chris Harper Mercer, according to CBS News.
LIVE UPDATES: #UCCShooting: 10 confirmed killed - police
The news outlet cited unnamed law enforcement sources as it reported the young man's identity. Other outlets have also followed suit.
Notably, Harper Mercer is apparently 26 years old. Earlier in the day, Oregon Governor Kate Brown described the gunman as a 20-year-old male.
Police declined to officially identify the suspect.
"I will not give him the credit he probably sought for this horrific and cowardly act," Douglas County Sheriff John Hanlin said Thursday night.
"You will never hear me mention this name."
Harper Mercer's online presence is already being scrutinized by various outlets. His Myspace page features a photo of a young man posing with a gun.
Other photos include several featuring men wearing camouflage jackets and balaklava hats while posing with weapons.
The Irish Republican Army is also mentioned twice - one newspaper cover that's displayed reads: "British army could not defeat IRA."
One of the images features six men with masks and guns, with a subtitle that reads: "Looking cool defending their country."
The man's dating profile has also been allegedly dug up. In the screenshot, Harper Mercer appears to go by the name "IRONCROSS45."
The Iron Cross is a black-and-white cross symbol that was employed by Nazi Germany during World War II and featured a swastika at the center. It was first created in 1219 when the crusader state Latin Kingdom of Jerusalem allowed the Tuetonic Order to combine a black cross design with that of the Jerusalem cross.
The profile describes Harper Mercer as a "mixed race" man with political views that are "conservative, republican."
His religious views are also described as "Not Religious, but Spiritual."
There has also been speculation at the UCC shooter may have posted a warning about his pending shooting spree on the 4chan internet forum.
On Wednesday night, a thread on the message board 4chan was posted with someone posting an image with a gun, writing a post that foreshadowed the events of the next day with some detail.
"Some of you guys are alright. Don't go to school tomorrow if you are in the northwest," an anonymous user said in a thread.
"So long space robots," he said, with robots being the term for a user of the /r9k/ section of the board where he posted. "Will post again in am, 10 min countdown. Won't say more to much to prepare."
No connection between the 4chan thread and the UCC shooting as been confirmed. Law enforcement sources reportedly told NBC reporter Tom Winter that they are skeptical about any connection.
Meanwhile, numerous outlets are also connecting a "Lithium_Love" blog from torrent-uploading site to Harper Mercer's email address, though this connection has not been confirmed.
In the blog, the user opines on subjects such as police shootings and the killing of two journalists in Virginia at the hands of disgruntled worker Vester Flanagan.
Referring to Flanagan, the user wrote "so many people like him are all alone and unknown, yet when they spill a little blood, the whole world knows who they are."
"A man who was known by no one, is now known by everyone. His face splashed across every screen, his name across the lips of every person on the planet, all in the course of one day. Seems the more people you kill, the more your're in the limelight."