Billboards blame 'hookup' apps for fostering risky sex behavior
Published time: 28 Sep, 2015 18:09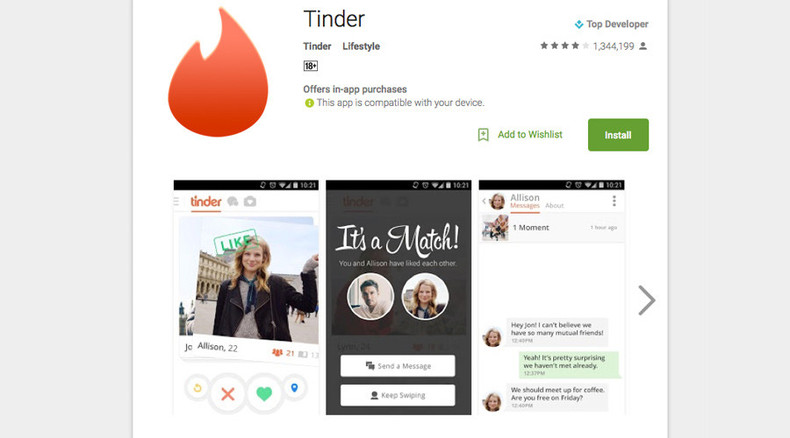 A new billboard campaign in Los Angeles is calling out online dating apps Tinder and Grindr, suggesting they encourage a "hookup culture" that exacerbates susceptibility to sexually transmitted diseases such as gonorrhea and chlamydia.
The AIDS Health Foundation (AHF) and FreeSTDCheck.org are behind the billboards, one of which was placed near Tinder's headquarters on Beverly Boulevard in Los Angeles. AHF said the campaign's aim is "to draw attention to rising STD rates over a time period that corresponds with the growing popularity of dating or 'hookup' mobile phone apps."
The organizations pointed to a recent Vanity Fair article that detailed dating apps' role in encouraging more casual, possibly risky sex among young adults. They also mentioned a May report by the Rhode Island Department of Health that found cases of syphilis, gonorrhea, and HIV shot up between 2013 and 2014. Engagement in risky sexual behavior, like "using social media to arrange casual and often anonymous sexual encounters, having sex without a condom, having multiple sex partners, and having sex while under the influence of drugs or alcohol" has increased in recent years, the report concluded.

Tinder is the top Lifestyle app at the iOS and Google Play app stores. Released in late 2012, Tinder has boasted that more than half of its user base is between the ages of 18 and 24. Grindr is the top dating app for gay males.
READ MORE: Casual sex apps blamed for rise in STDs – report

"Mobile dating apps are rapidly altering the sexual landscape by making casual sex as easily available as ordering a pizza," said Whitney Engeran-Cordova, senior director of AHF's Public Health Division.

"In many ways, location-based mobile dating apps are becoming a digital bathhouse for millennials wherein the next sexual encounter can literally just be a few feet away—as well as the next STD. While these sexual encounters are often intentionally brief or even anonymous, sexually transmitted diseases can have lasting effects on an individual's personal health and can certainly create epidemics in communities at large. We want to remind sexually active adults—especially young people—how easy it can be to contract an STD and the importance of undergoing regular screenings to protect their sexual health."

Tinder has countered by sending a cease and desist letter to AHF, demanding the billboards be removed, adding the billboard campaign "…is responsible for…falsely associating Tinder with the contraction of venereal disease."
READ MORE: ​'High There!' Tinder-style dating app helps stoners connect, light up

AHF said it responded to the cease and desist letter, saying it had not made "false or disparaging statements against Tinder," and that it "respectfully declines to remove all references to Tinder in AHF's billboard campaign."

"Rather than trying to chill AHF's public health message by threatening AHF with frivolous lawsuits, AHF urges Tinder to support its message of sexual health awareness by encouraging Tinder users to get tested for STIs and to get treated promptly if they have an infection," AHF added in its response.

AHF said Grindr reacted to the billboards by ending AHF's paid advertising on the site for free STD testing services.

Neither Tinder nor Grindr responded to request for comment, according to CBS Los Angeles.

"I think the AIDS Healthcare Foundation has to do what they have to do to keep all young people safe that are doing these new apps now," John Demille, a man living with AIDS in Los Angeles, told CBS LA.