​Swiping for peace: New dating app aims to bring Israelis and Palestinians together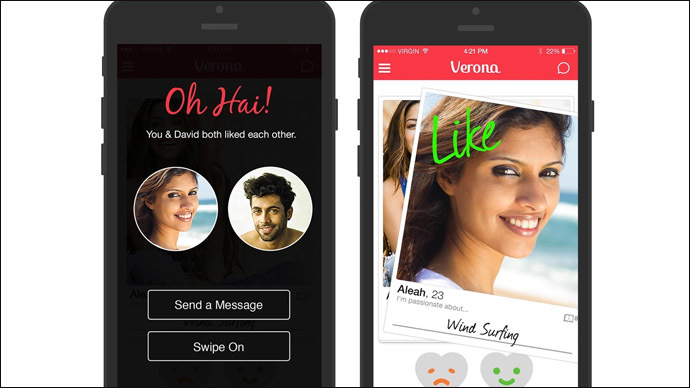 "Verona," a brand new dating application connecting Israelis and Palestinians, is hoping to help toward solving the decades-long conflict in the Middle East.
The app's slogan is "World Peace, one swipe at a time" and is designed to connect Israelis and Palestinians looking for love, friendship or people interested in achieving peace between the nations.
It functions in the same way as the viral app Tinder. Once logged in via Facebook, users create a profile identifying as "Israeli" or "Palestinian" and are shown prospective matches in their area who identified with the opposite group. Users swipe right if they like someone, left if they don't, and if the two match, they can start chatting and potentially meet.
The name of the app, Verona, is also the city in Shakespeare's "Romeo and Juliet," where star-crossed lovers meet, despite their families feuding with each other.
The app's creator, Matthew Nolan, says that the idea came to him after talking to his Palestinian friend who has an Israeli girlfriend. "I very much believe that the basis of any relationship is communication," says Nolan, according to Refinery29 website. "So if these two cultures are forced to be separate in all this conflict, forming relationships between them could be the glue that hopefully ignites a shift in consciousness."
READ MORE: Israeli court makes way for demolition of Palestinian village
A large number of registered users are located in Tel Aviv, Jerusalem and the West Bank, which surprised Nolan. "We're still not sure how they're hearing about us," he said. The biggest concentration of users, however, is around the New York area, where many people and college students with Palestinian or Israeli roots live.
The concept of uniting people in conflict through communication dates back to the 1950s, experts say, when social psychologist Gordon Allport theorized that bringing conflict groups together under optimal circumstances can help reduce discrimination.
Before Verona, the Facebook community"Israel Loves Iran" went viral in 2012, seeing thousands of love messages sent between Israelis and Iranians. Now the platform is used to "share love" between other nationalities that often discriminate against each other and to discuss conflict and religion in a peaceful manner.
An earlier yet similar project was the forum called "The Parents Circle," a joint Palestinian-Israeli organization with the goal of reconciling families who have lost a loved one as a result of the prolonged conflict.
So far the reviews on the Verona app convey a sense of positivity.
"Peace in the Middle East. Great app and wonderful idea. Maybe all we need is some love to find some peace" said Khaled Dajani. Another user commented "World Peace. One swipe at a time, I love it!"
Realistically, the experts who commented on the app don't think that Verona could actually be the solution alone to solving the conflict in the Middle East as the conflict isn't rooted in hatred between Palestinians and Israelis, but rather in decade-long disputes over territory and the displacement of people.
But this kind of dialogue and positive action "can show politicians and others that people really do want to connect and understand," Craig Zelizer, founder of The Peace and Collaborative Development Network and interim director of Georgetown University's Conflict Resolution Program, told Refinery29.
Verona was launched at the end of March as an Android App. Within a month it gathered over 1,000 users. Its iOS version should be available this month.
May the Apple gods look upon us favorably. We're currently waiting for Apple approval to be in their store.

— Verona (@GetVerona) 4 мая 2015
You can share this story on social media: