​'High There!' Tinder-style dating app helps stoners connect, light up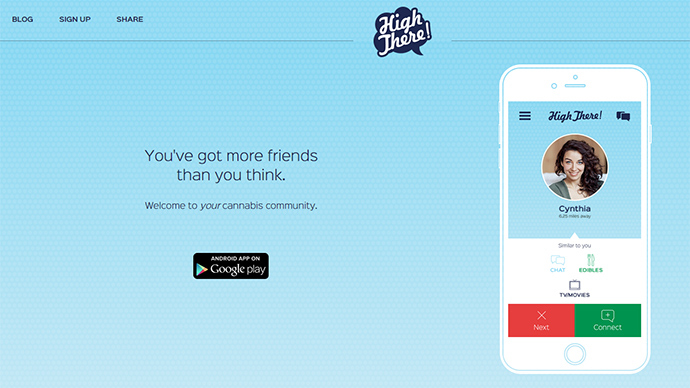 A Colorado-based mobile app, dubbed "the Tinder of weed" is a dating and friendship app that connects likeminded marijuana enthusiasts. The app is only available in US states where the drug has been decriminalized or is available for medicinal use.
Much like popular dating and hook-up app Tinder, users create profiles and can swipe through potential matches. However, Denver-born High There! matches users not only based on location but also on their marijuana consumption habits and preferences.
For instance, those who prefer vaping (using a vaporizer to inhale the drug) to smoking, are more likely to be paired with other vaping devotees. Users are also matched based on energy levels after pot consumption. Smokers bursting with vigor after hit or two won't be matched with sluggish stoners who just want to chill out after smoking a bowl.
"We wanted to build a cool piece of technology that solved the problem of where do million and millions of cannabis consumers go to meet people, connect with people and build relationships," High There! founder and CEO Todd Mitchem told Mashable.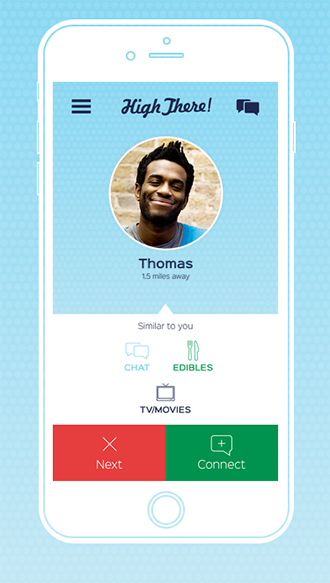 Mitchem says he was inspired to create the app after he found it difficult to maintain connections made on mainstream dating services. He said his affinity for marijuana was a turn off for many.
"I hated dating on other sites and apps because as soon as the idea of my cannabis consumption came up – date over. I actually walked out of a date (after paying of course) and said to myself, that's it," he told the Fast Company blog.
The "social connectivity" app isn't limited to seeking romantic partners, but can also be used to find a good local marijuana dispensary or pot smoking buddies in a new town.
"Just the other day I connected with a dude and talked back and forth for a while about life, weed, and built a friendship," Mitchem said.
For now the app is available only in the 23 states where marijuana is either legal, decriminalized or available for medical use; the service uses geofencing to prevent usage in other states. So far, Colorado, one of the four states that have fully legalized recreational use of the drug, raked in some $50 million from tax revenues, while Oregon and Alaska are slated to bring in $50 to $100 million and $20 million respectively.
Mitchem says that the company is hoping to expand to Canada and other countries as the laws are altered. He added that bringing the app to a new state would be as easy "as flipping a switch," but says the company plans to respect local laws.
Currently the free app is only available for Android, but the company will be rolling out an iOS version in the coming days.
You can share this story on social media: