Dude! Legal marijuana America's fastest-growing industry - report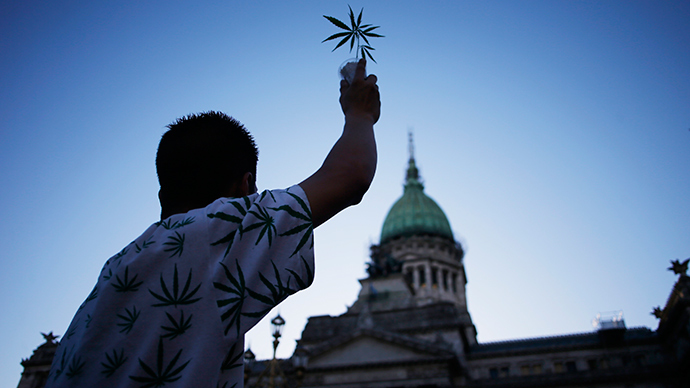 The US market for legal cannabis surged 74 percent in 2014 making it one of the fastest growing industries in the country, possibly surpassing organic food if the trends continue, according to a new study
READ MORE:DC Council sends pot legalization measure for congressional review despite ban
Researchers from a marijuana research firm, the ArcView Group, in their third edition of the State of Legal Marijuana Markets, reported the market for legal cannabis was $2.7 billion last year, up from $1.5 billion in 2013.
They predict the combined market value among the states that have legalized it could hit $11 billion annually by 2019.
The report expects a 32 percent growth in 2015, which would place marijuana "in the top spot" among other industries.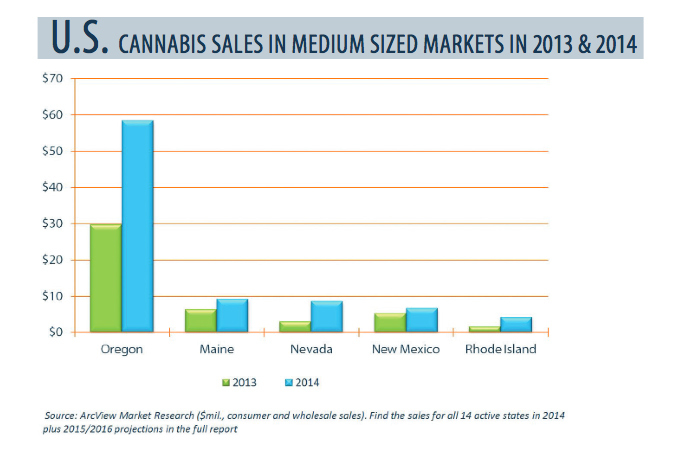 Currently, four states – Alaska, Colorado, Washington, and Oregon - have legalized retail marijuana.
With cannabis now passed for medical use in 23 states and Washington, D.C., and full legalization heading for a vote in Alaska and Oregon, the size of the marijuana industry is expected to grow to about $2.6 billion this year from about $1.5 billion in 2014, it said.
And in the event that marijuana becomes legalized in all 50 states, the market could surpass the market worth of the organic food industry, which is valued at just under $50 billion.
READ MORE:Tee-Crime: Florida man wearing 'I Have Drugs' t-shirt arrested for just that
"In the last year, the rise of the cannabis industry went from an interesting cocktail conversation to being taken seriously as the fastest growing industry in America," said Troy Dayton, ArcView Group CEO. "At this point, it's hard to imagine that any serious businessperson who is paying attention hasn't spent some time thinking about the possibilities in this market."
The report noted that Colorado became the "new epicenter" of the cannabis industry, posting $805 million total for retail, medical and wholesale.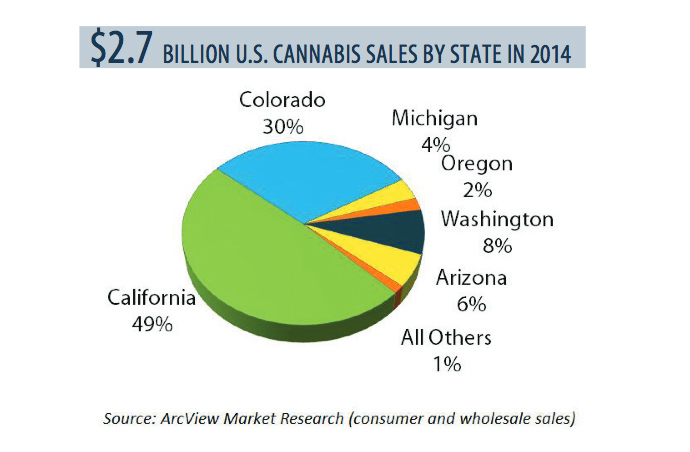 Meanwhile, California dominates the legal marijuana market with $1.3 billion. However, other states are catching up in a hurry. Arizona, for example, was the fastest-growing marijuana market in 2014, surging to $155 million - up more than the $120 million recorded in 2013.
Arizona and California have legalized the medical use of marijuana, while legislation to legalize recreational cannabis is expected to appear on the 2016 ballots in both states.
"These are exciting times," Dayton said in the executive summary, "and new millionaires and possibly billionaires are about to be made, while simultaneously society will become safer and freer."
You can share this story on social media: