High crimes: Meth-carrying drone crashes near US-Mexican border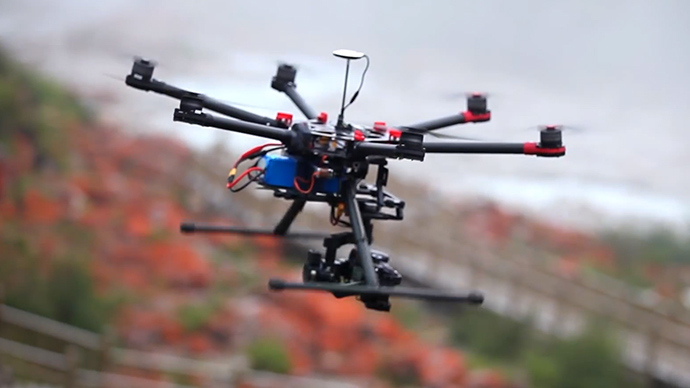 Nearly three kilograms of crystal meth fell from the sky in the Mexican city of Tijuana near the US border, when a drone used to smuggle the drugs ditched in a supermarket parking lot.
"It's probable the drone couldn't hold the weight of the cargo, and that's why it fell," Mexican police said in a statement.
The officers said they recovered six packets of methamphetamine, weighing more than six pounds (2.7 kilograms), from the drone's wreckage.
An anonymous caller warned the police of the UAV after spotting it in the air three kilometers from the San Ysidro crossing with California.
Aerial drone crashes in Tijuana supermarket parking lot with methamphetamine payload. http://t.co/iHYaVAnbxnpic.twitter.com/BRCqHuAqOg

— U-T Public Safety (@UTcops) January 22, 2015
The police identified the aircraft as a Spread Wings 900 "hexacopter," a six-rotor remote controlled model, sold on Amazon for $1,400.
Last July, the DEA (US Drug Enforcement Agency) sounded the alarm over the increased use of drones by Mexican drug cartels.
They've been using UAVs to smuggle narcotics into the US since 2011, but have recently intensified recruitment of skilled technicians to operate the technology.
Drones, capable of evading radar detection, are a cheaper, more efficient way of drug trafficking than underground tunnels and mini submarines.
In 2012, over 150 drone trips were made from Mexico to the US, delivering cocaine and other drugs, the DEA said.
The reliance on UAVs by drug traffickers "is a potentially new threat if it became used in a widespread way. If it can be useful and productive, organized crime groups will find a way," David Shirk, an expert in Mexico security and justice issues at the University of San Diego, told U-T San Diego.
There has recently been a surge of methamphetamine seizures on the California-Mexico border as drug cartels give up on marijuana, whose cultivation for recreational use has increased in the US.
According to US Customs and Border Protection, 14,732 pounds (6,682 kilograms) of meth were seized by the San Diego field office last fiscal year, accounting for 63 percent of the synthetic drugs confiscated nationwide.
You can share this story on social media: